Following the shelter in place order issued  Monday, March 16th, please take note of modifications to BORP programming schedules. BORP administrative offices can be reached by calling 510-849-4663.
Scroll down to see ADVENTURES & OUTINGS events listed in plain-text format.
Bay Area Outreach and Recreation Program Adventures and Outings Calendar
SCHEDULED EVENTS*
For more information call Lori Gray at 510-843-4398 Weekdays between 10 a.m. and 1 p.m. PST.
---
Explore the Life of Frida Kahlo (Audio Description)
March 8, 2021, 10:30 am – Noon
Virtual Event Reservations: Call Lori Gray at 510-843-4398.
Space is limited.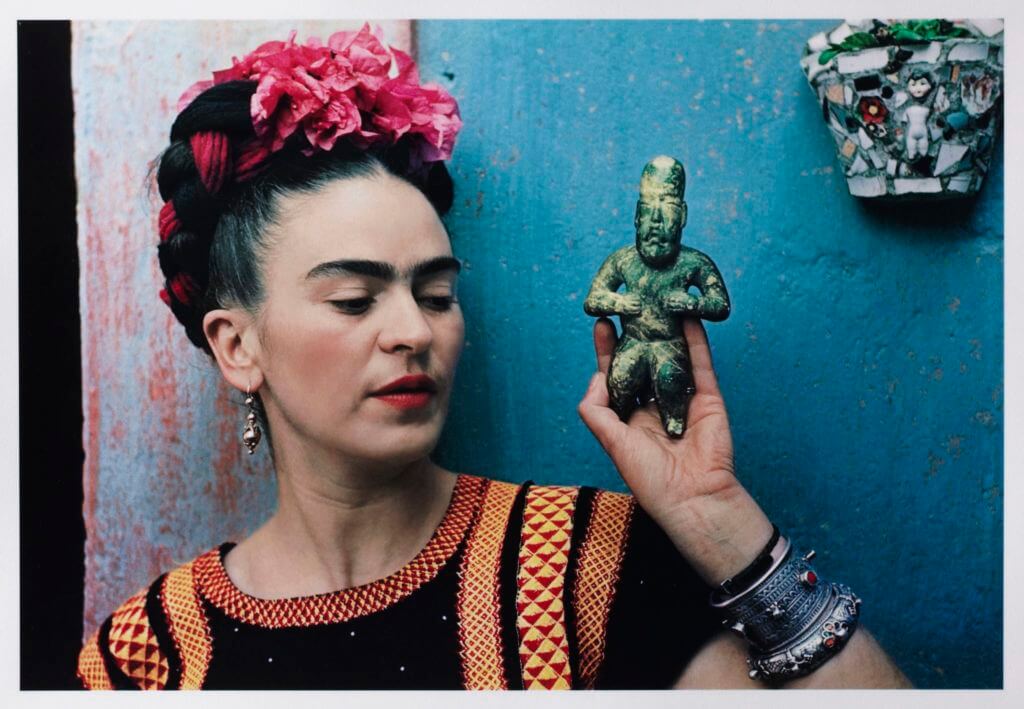 Image: Nickolas Muray, "Frida with Olmeca Figurine, Coyoacán," 1939. Color carbon print, 10 3/4 x 15 3/4 in. (27.3 x 40 cm). Fine Arts Museums of San Francisco, Gift of George and Marie Hecksher in honor of the tenth anniversary of the new de Young museum. 2018.68.1. © Nickolas Muray Photo Archives
Presentation will be highly descriptive.
Description of Event: At the time of Frida Kahlo's death in 1954, a treasure trove of the artist's highly personal items—including jewelry, clothing, and prosthetics—were locked away. 50 years later, these belongings were unsealed and are on view for the first time on the West Coast at the de Young Museum. Discover what these objects reveal about their now iconic owner in Frida Kahlo: Appearances Can Be Deceiving by joining docent Karen Libby who will explore Frida's life through the personal objects and artwork in the exhibition.
---
Zoom Virtual Outings are held Thursdays and Sundays.
Contact Lori for details.
Thursdays: 3 pm – 5pm
Sundays: 1 pm – 3pm
PLEASE NOTE: *This list is a work-in-progress; trips are often added or sometimes changed. Please note it is important that you attend the outings that you sign up for. Once we schedule an outing, we are unable to cancel the driver once they have been scheduled.
We believe that everyone should have access to the unique challenges that outdoor recreation provides. We make every effort to accommodate your needs, including providing transportation and volunteer support. BORP plans trips for a wide spectrum of abilities, including wheelchair users, slow walkers and people with visual impairments. BORP however, does not provide attendants on trips but will offer discounted trip fees for caregivers when possible. Families and friends are welcome on all our trips – just let us know who is coming and their needs.
BORP trips operate on two basic tenets: one, a successful trip requires group participation, and two, a little dirt is good for the soul. The line between volunteer and participant is often blurred, as we all share responsibility for the group's well-being. However, every person is responsible for setting their own boundaries and limitations. Safety is our priority on all BORP outings and events. Many BORP trips fill quickly, so we urge you to register early.
BORP trips are possible because of dedicated people who generously donate their time and energy. You can be one of these lovely people.
Registration Procedures… Just follow these easy steps:
Consult the website or recorded line for the list of current outings: 510-849-4663 extension 1380.

Contact Lori Gray phone number 510-843-4398, after 10 AM please for trip details and to sign up

After spoken with the program coordinator and received the information, you must let me know what you are interested in by the deadline. Once the deadline has passed, I will confirm your spot and will let you know how to pay. If you are signing up after the deadline, you will automatically be placed on a wait list. Note you must talk to me before signing up as not all outings are suitable for everyone. You can pay in several ways, as a general rule, we do not accept credit card payments! I will have everyone pay in cash on the day of the outing. Please note folks need to bring exact change as I will be unable make change. If you need to pay by check, please let me know prior to the trip. Please make checks payable to BORP and note the trip name and date(s) on the check. Mail payment to:
BORP
Adventures and Outings
3075 Adeline St., Suite 200
Berkeley, CA 94703
510-849-4663
Cancellations and Lateness: Our trips are very popular, so it is detrimental to the program when folks either cancel on trips they've signed up for or show up after the planned departure time. Please note there may be a $10 cancellation or late fee charged. Once the sign up deadline for a trip has passed, I then secure either one or two buses for transportation. When people cancel, our numbers may drop below the point of needing a second vehicle. However, we still have to pay the second driver. Cancellations also affect our grant funding as grants depend on participant numbers. Volunteer cancellations may adversely affect the quality of the trip for participants and may even limit what we can experience on the trip.

Please note that due to economic constraints, we are having to raise program fees in some instances.
Financial Aid
We want you to participate in BORP outings. Call us, and we can talk about payment plans or scholarships.
For cancellation & refund policies for Adventures and Outings programs, call Lori Gray after 10 a.m. Full refunds are only given if we must cancel an outing. In the event of illness or other emergencies, please call the specified trip leader or Adventures and Outings coordinator. Credit may be possible.
Volunteers
BORP trips are possible because of dedicated people who generously donate their time and energy. You, too, can be one of these lovely people. Sighted guides are especially needed for hikes and riding tandem bikes. Call the office for more information.
Please note: New trips are always being added, so please consult the BORP recorded message line at 510-849-4663, ext. 1380