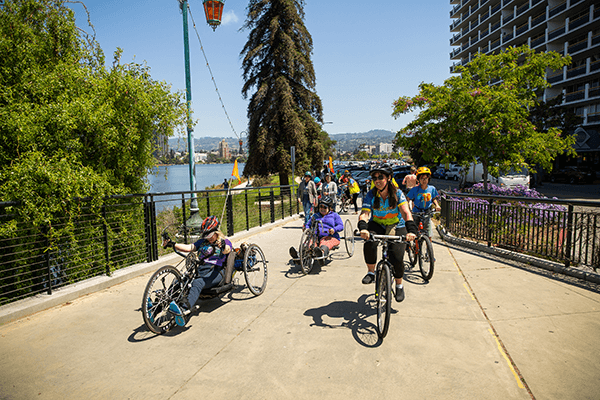 UPDATE – PLEASE READ: At this time Lyft has decided to pause the Oakland program indefinitely. Thank you to everyone who participated in the Oakland Adaptive Bike Share Pilot Program. In this six month period we served over 60 people for a total of over 90 rides. Over 40 of people who participated were new to the BORP Cycling Program!
The San Francisco, Golden Gate Park program, on Sunday, is still going strong. We are hoping to add another location on the Embarcadero, San Francisco. So, stay tuned.
San Francisco
Location: Golden Gate Park,
Intersection of JFK and Kezar Drive, San Francisco
Hours: Sundays, 11 – 4
(No service if raining)
How It Works:
Step 1: Review our available adaptive bikes and hours. (Reservation System coming soon.) Until then we are operating on a walk-up basis, but you may email cycling@borp.org to request a reservation. Provide name, date, time, and bike model.
Step 2: Get Registered: If it is your first time, show up at the Adaptive Bike Share 30 minutes before you want to ride.
Join the Bay Wheels/BORP Adaptive Bike Share Pilot either by using our available computer or your phone. Save time by downloading the Bay Wheels App in advance. You will also have to complete a paper liability and registration form onsite. You will be given a code on site to waive your membership fee.
Note: You will be required to have a credit card to register online.
No Credit Card? If you do not have a credit card; you can register before your visit through the Bike Share for All Program, information is here:
https://www.lyft.com/bikes/bay-wheels/bike-share-for-all
Want to try it before registering? One fitting session and a ride in a limited area is allowed without membership required as long as:
a) required forms at station are completed and signed;
b) Two valid ID's and your mobility device are left as security.
Step 3: Get Fitted and Trained – BORP Staff will help you select an appropriate bike and adjust it to fit you; and train you how to pedal, steer, brake, and change gears.
Riders must be able to transfer to cycles independently or come with attendants capable of assisting. Stepped chairs and a Hoyer lift are available for assistance. BORP staff will assist with balance, stabilization, and fitting, but will not lift or lower weight.
Step 4: Go Ride!
Services Included
The following services are included with your bike share use:
Fitting and Training for the available adaptive bikes
Bike helmet (included with bike rental)
Mobility device storage during rental time
Crate storage of service animal during use.
The following services are not included:
Transfer from mobility device to adaptive bike (i.e. customers will need to do so on their own or with the assistance of a friend, family member and/ or caregiver).
Emergency pick up of rider (i.e. if customer cannot return to the bike shop on their own). However, BORP Staff will provide customers with a phone number that they can call in case of emergency, will attempt to repair any mechanical problems, and will pick up the bike for return to the station. We will attempt to transport your mobility device to you, but cannot guarantee this.
Common Questions
How long can I ride? Rides are limited to one hour. If no one is waiting for the bike you are on, you may extend your ride in 30 minute increments.
Can I bring my service dog? We have a crate for certified service dogs to remain in while you ride?
Can my friends without disabilities ride the adaptive bikes? No, but there are Bay Wheels available near the station for them to use.
Can I make a reservation? We are working on the online reservation process. In the meantime, we are operating on a walk-up basis.
What kinds of disabilities do the adaptive bikes work for? We have a variety of leg- and arm-powered trikes and one side-by-side tandem. These bikes are often used by people with SCI's (para and quad level); Stroke survivors, people with CP, people with brain injuries, visual impairments, and other mobility related disabilities.
Why over 18? This pilot is a program of the Bay Wheels program which requires that riders be 18 and over. Younger riders should visit the BORP Adaptive Cycling Center in Berkeley.
What bikes and equipment are available? We will have an upright handcycles, recumbent handcycles, recumbent leg trikes, and a side-by-side tandem. We will have supportive leg pedals, quad grip hand pedals, and a variety of straps, seatbelts, and pads.
Is there a bathroom nearby? There is an accessible Oakland park restroom located about a ¼ mile from our location.
Is there parking nearby? There are many public parking spaces including two accessible spaces.