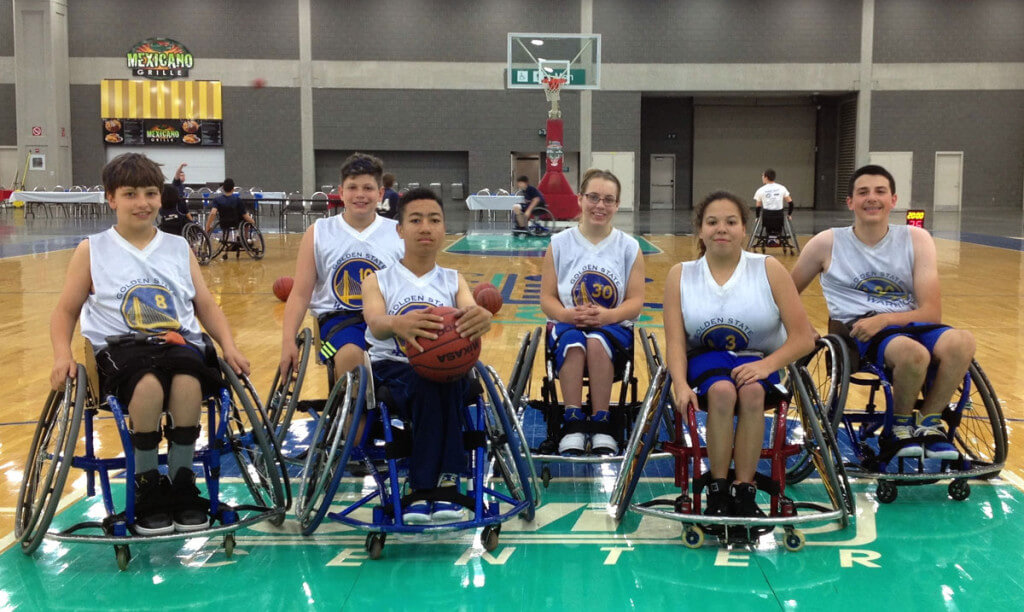 The 2014-15 wheelchair basketball season has come to an end for the Jr. Road Warriors.
The NWBA National Invitational Tournament in Louisville, KY last weekend started with high hopes and excitement for a great finish to the season.
This year, the Jr. Road Warriors had 13 kids compete during the season.  Because of illnesses, injuries, or other situations, only six kids were able to make the final trip to Kentucky.  Avery, Daniel, Garnett, Amit, Christie and Cortney would be competing during the tournament. Koda, the captain and leader of the team would miss his first tournament in six years because of a medical issue.  This created a situation where Amit and Christie had to become instantly comfortable handling the ball and the pressure.  That is not something that happens overnight.
The flight to Louisville was late, and delays getting the chairs off the plane made it even later.  By the time the kids got to the hotel it was after 2:00am, and the first game was scheduled for 8:00am.  If there is one thing that can be said for these kids is that they are extremely resilient and even though they did not get much sleep, they were up and ready for our team breakfast at 6:00am (3:00am California time!).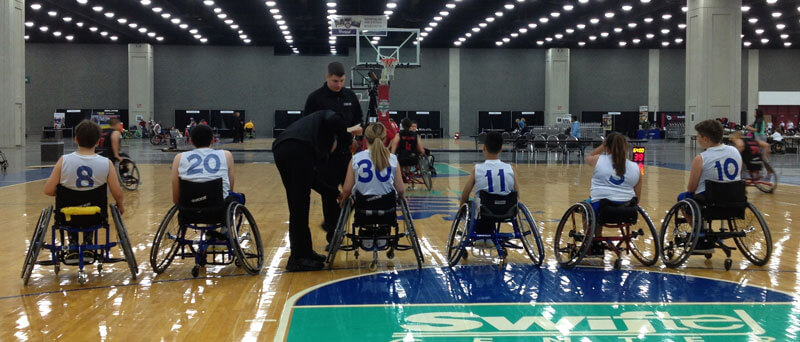 The tournament was held at the Kentucky Exhibition Center in Louisville.  Inside the center, there were 12 courts laid out to host 85 teams in five divisions of competition, including 45 Junior Division teams.  Almost 900 athletes of which ~500 were kids with physical disabilities would compete throughout the weekend.  If there was ever a moment where these kids could see that they are not alone in the world and be surrounded with other kids with similar disabilities, this weekend provided it.  A sea of kids constantly pushed back and forth through the Convention Center having the time of their lives.
Amit and Christie balanced our scoring attack and did an admirable job accepting the pressure of handling the ball for the first time.  Christie hit some amazing shots and at times looked like the most surprised person in the gym when they fell.  Amit worked well coming off a pick hitting layups, and opened the tournament up with a 3-point shot.
Cortney worked her butt off throughout the tournament and had the play of the weekend when she went airborne and landed on her face.  In true Cortney style, she just smiled and laughed as her teammates got her up.
Garnett made the pass of the weekend with a backwards bounce-pass to Christie for a layup.
Daniel played incredible defense and gave every bit of energy he had each game.  I don't think I have ever seen a kid sweat so much.
Avery had an amazing weekend.  He came in and gave us a few minutes of action each game.  He set picks for his teammates and played strong defense.  Being our youngest player at only 10 years old, Avery did an amazing job of accepting his role and matching up with kids that were 17-18 years old.
Three of our athletes played their last games with the team.  Cortney Outman, Christie Levine, and Amit Vigoda (shown L-R) will be moving on from our program, and it has been an incredible journey to have had them on the team.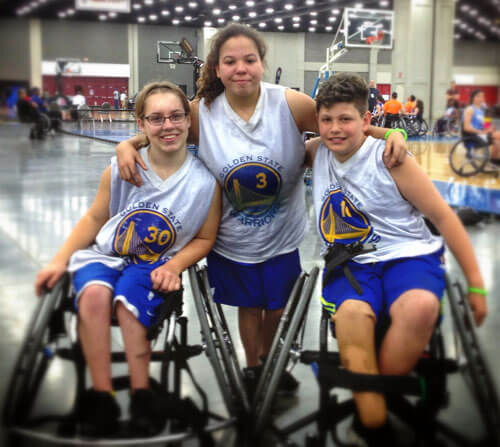 Cortney will be graduating and moving to Tucson, AZ to play with the University of Arizona women's team.  Christie will graduate and head out to the University of Texas to play on the new Movin' Mav's women's team.  And Amit Vigoda will head back to Israel with his family for awhile.
Although this tournament did not go as hoped, it was an incredible season.  The kids competed in Phoenix, Seattle, Berkeley, and Louisville this year.  They played against teams from Alabama, Utah, Washington, Arizona, Colorado, New Mexico, Oregon, California, Wisconsin, and Michigan.
Thanks to the families of the following kids for being part of this program and allowing their kids to compete: Jade, Ben, Isaiah, Koda, Ella, Matthew, Griffin, Cortney, Christie, Amit, Daniel, Garnett, Avery.
Also, thanks to the parents of all the kids in our program for understanding the value of sport and making the sacrifices to drive their kids to the gym every week, and providing them the opportunity to be part of something huge.
To all the kids that were not able to be part of the team this year, and to those kids returning next season – next season starts today!