Outstanding Achievers
BORP's Hall of Fame recognizes those individuals who have accomplished an extraordinary level of achievement in a sport and/or who have made invaluable contributions to the development, support and advancement of BORP and its programs.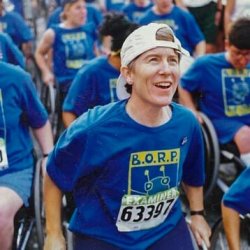 Kathryn (KB) Black
KB spent much of her life supporting BORP and creating opportunities for kids and young adults to enjoy adaptive sports, including power soccer, basketball, and track & field. As BORP's Assistant Coordinator of the Children and Youth Sports Program from June 1993 to September 1995, she helped develop the program, in particular power soccer. From 1990 to 1998, she was a member of the Bay Area Meteorites Women's Wheelchair Basketball Team. In addition to playing, KB provided administrative and fund raising support for the team.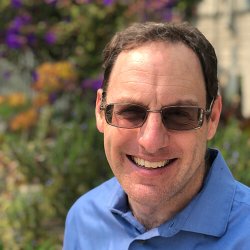 Richie Bennett
Joining the Bay Cruisers at just six years of age, Richie Bennett was an exemplary athlete during his 13-year career as a junior wheelchair athlete, setting numerous national records in track & field, and serving as captain of BORP's wheelchair basketball team. His dedication and enthusiasm resulted in numerous honors, including National Sportsmanship Awards for both basketball and track & field. As a coach, Richie led the Bay Cruisers to three national championships in 2003, 2004, and 2008.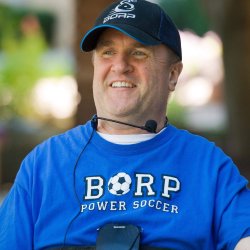 Chris Finn
Chris started playing power soccer with BORP in March, 2002 and was hired as head coach of BORP's power soccer teams six months later. In 2004 and 2005, he led BORP teams to the Western Regional Championships, and led them to further championships in 2009, 2010, and 2014. In 2006, Chris became a Founding Member of the United States Power Soccer Association and the Federation Internationale de Powerchair Football Association. As coach, he led the US National Team to World Cup Championships in 2007 and 2011, and the 2014 Powerchair Football COPA Championship. He also led the US under-18 National Team to a World Championship in 2013.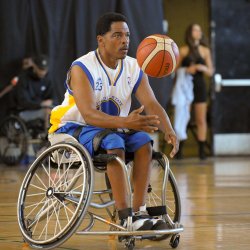 Chuck Gill
Chuck joined BORP's adult men's basketball team in 1987 and assisted with coaching BORP's junior wheelchair basketball team in the early 1990's. In 1991, he joined the Golden State Road Warriors, then known as the 76ers. As a 13-time member of the USA National Wheelchair Basketball Team, Chuck helped the USA win three gold medals at the World Championships of 1994,1998, and 2002, and three bronze medals in 1996, 2000, and in 2016 as an assistant coach. Chuck's teams also won national championships in 2001 and 2004. In 2001, Chuck was named the National Championships MVP by the National Wheelchair Basketball Association. He went on to play professionally in France from 2005-2007. He was a 17-time NWBA/NBA All Star team member and two-time NWBA/NBA All Star game MVP. Since 2008 Chuck has served as coach of BORP's adult wheelchair basketball team.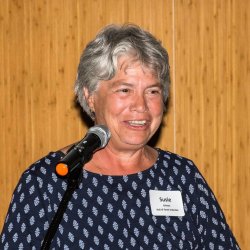 Susie Grimes
Susie  coached youth wheelchair basketball and power soccer during the inception and development of the teams from 1986 to1990. She was also the co-coordinator of BORP's youth sports program. Susie infused a commitment to physical, social and personal development in BORP's programs and fostered the organization's gender equity commitment by promoting the participation of girls and women in sport. Her athletic achievements include national titles in quad rugby and wheelchair basketball; she received Paralympic gold and silver medals in wheelchair basketball and was inducted into the NWBA Hall of Fame.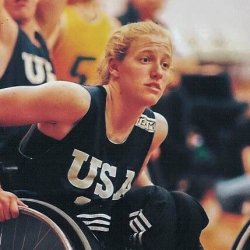 Jennifer Howitt Browning
Jennifer is one of the most decorated athletes in BORP's history. She was named the "Sports 'n Spokes National Athlete of the Year" in 2000; she is the only junior athlete to win national sportsmanship awards in both track and basketball; and she has been a member of six USA women's wheelchair basketball teams from 1999 to 2006, including the 2004 Paralympic team that won the gold medal in the Olympic Games in Athens. Jennifer is an International Relations Adviser at UK Sport.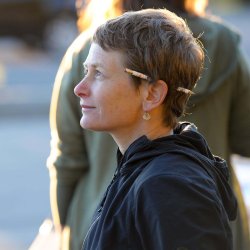 Kristi Hruzewicz
Kristi founded and developed BORP's cycling program and co-founded the annual Revolution Ride & Festival, BORP's signature fund raising event. Kristi launched her adaptive sports career with downhill mountain biking in the late 1990's, and raced around the US and across the Pacific in Japan. In 2006, Kristi left BORP's staff and shortly thereafter joined the Board of Directors for a three-year term as Board President.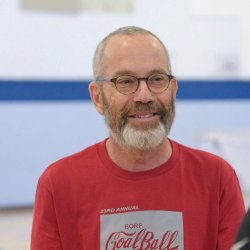 Jonathan Newman
Jon came to BORP in 1988 when he was charged with starting a goalball program. As a volunteer, he did everything to make goalball a thriving core program at BORP. In 1998, Jon joined the BORP staff and took charge of the adult sports program. Power Soccer was just starting and, as he did with goalball, Jon developed one of the most successful programs in the country. Jon continued to direct BORP's adult sports program until 2021 when he retired after a remarkably successful 30+ years at the organization.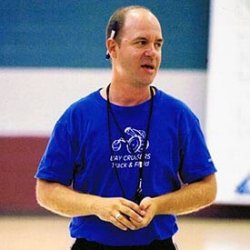 Tim Orr
Tim worked at BORP from 1984 to 2008, and founded the youth sports program in 1986. He coordinated and coached the Bay Cruisers for over 22 years. During his tenure, the Cruisers became the only youth wheelchair sport program in the USA to win national team titles in Varsity, JV and Prep basketball, as well as track & field. Tim was the recipient of the 2005 National Wheelchair Basketball Association's "Leadership Award" for his work as a national leader in the development of youth wheelchair basketball. Tim coached the USA wheelchair basketball, as well as track & field teams on numerous occasions from 1990-2005.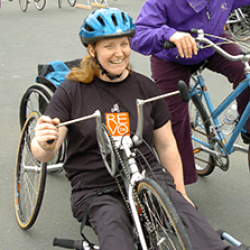 Cecelia Perkins
Cecelia first got involved with BORP in 1990 by joining BORP's Bay Cruisers track & field and basketball teams. In 1991 and 1992, she set national records (J2D class) in multiple track, field and swimming events. At that time, she also received the Coaches' Award at Track & Field Junior Nationals. From 1992 to 1996, Cecelia attended the University of Illinois and competed on their varsity wheelchair basketball and track teams. In 1996, she was the assistant coach for BORP's track & field and basketball teams. From 1997 to 2006, Cecelia was a member of BORP's Board of Directors.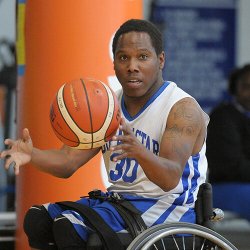 Lamile Perry
During his junior career, Lamile Perry set numerous track & field records. On more than one occasion, he held the national records in his division in every track event (60, 100, 200, 400, 800 and 1500), two team relays, and all three field events as well; that's 11 national records total—all at one time. He was a member of two USA track & field teams, captain of the USA junior track team in 2001 in Australia, and led the Bay Cruisers to the national track & field team title in 2000, the same year that he won the National Track Athlete of the Year award.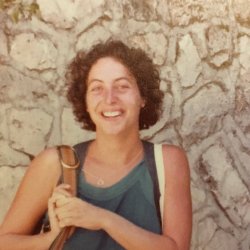 Diane Schecter
Diane co-founded BORP with Susan Sygall in 1975. She later relocated to Oregon and worked for the City of Eugene where she coordinated recreation programs for persons with physical disabilities. For over 30 years she was the director of the Willamalane Adult Activity Center.
Rick Spittler
As BORP's executive director from 1995 to 2007, Rick provided visionary leadership to BORP, helping to develop and grow its menu of sports and recreation programming. Rick led the development of the Cycling and Adventures & Outings programs, and helped BORP become a model for other organizations around the country to follow and emulate. He also helped secure BORP's future by developing the annual Revolution Ride and by hiring some of BORP's most successful staff.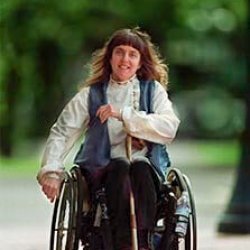 Susan Sygall
Susan co-founded BORP in 1975. As CEO and co-founder of Mobility International USA, she is an internationally recognized expert in international educational exchange, international development, and leadership programs for persons with disabilities, especially women with disabilities. Susan received a MacArthur Fellowship in 2000, a Kellogg National Fellowship, and was named Disabled Oregonian of the Year in 1994. In 1995 she received the "President's Award" from Bill Clinton for her leadership in international exchange programs for people with disabilities, her mentorship of young people with disabilities, and her national and international role in empowering people with disabilities.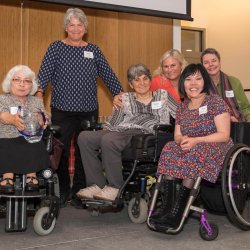 The Women of Quadzilla
Val Brown, Sun Chan, Ann Cupolo-Freeman, Susie Grimes, Bonnie Lewkowicz, Lori McLeod, and Megan Schirle. Quad rugby was the first team sport designed specifically for quadriplegics and a game changer for quads who wanted a challenging and competitive team sport. From the beginning the priority of, Bonnie, the team's founder, was to recruit women. The first year at Nationals in 1989 they surprised the veteran all-male teams and beat the defending National Champions, and took third place. In 1990, Quadzilla beat the previous year's champions to win the Gold.