BORP's programs provide ongoing opportunities for PLAY and ADVENTURE, promote EMPOWERMENT and INDEPENDENCE, and foster an inclusive, diverse and welcoming COMMUNITY.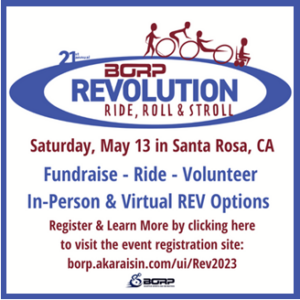 On Saturday May 13, BORP will hold its 21st annual Revolution Ride, Roll & Stroll (the REV). With both in-person and virtual options again this year, everyone can participate. The in-person event will take place in Santa Rosa, California where participants can cycle one of three routes through beautiful Sonoma County Wine Country, or roll or walk along a scenic creek side trail. BORP will host a post-ride party in the gardens of the Santa Rosa Hyatt where participants enjoy food, drink, community, and the afternoon sunshine.
The Revolution is BORP's most important fundraiser and makes our adaptive programming possible; each year we try to raise more than $200,000 to support our comprehensive menu of sports, recreation and fitness programs for children, youth and adults with disabilities. Participants raise a minimum of $450 or $250 for the virtual. To register or find out more, visit our REV event site here.
Your support as a rider, virtual participant, donor, and/or volunteer makes a marked difference to BORP. Thanks for your support.
of youth participants said BORP increased their confidence and self-esteem
of participants said BORP increased their overall sense of well being
of participants said BORP improved their mental health
of participants said BORP increased their social connections and supportive relationships
"My experience at BORP has been fantastic. I've grown, made friends, and developed so many life skills."
"BORP increased my confidence, independence and self-worth. It also challenged me in a positive way."
"The folks I met at BORP helped me regain a positive identity that I had lost as a result of my injury, and showed me that I could continue to live an active lifestyle and have a sense of pride in myself and my accomplishments."
"Everyone at BORP made my daughter feel welcome and valued."