Adaptive Kayaking Program
The BORP Adaptive Kayaking Program in Berkeley provides safe flatwater kayaking opportunities for people with disabilities and their companions. We're happy to serve both new and experienced paddlers. We often work with paddlers to help fine-tune the best set up for each person to maximize their safety and independence on the water. With know-how, adaptive tools, and a gorgeous location, we help make kayaking a great experience for everyone. Whether you want to exercise, bird watch, or just try something new, BORP Kayaking is happy to help.
BORP Kayaking is OPEN for the 2023 Season!
We offer two services: Fit Appointments and Paddle Days, both are by reservation only.
We will start accepting reservation requests for the following dates starting on May 5:
Monday June 5, 10a – 1p
Sunday June 18, 12p – 3p – WAITLIST ONLY

Future kayak Paddle Days will be added throughout the season, typically on the 1st Mondays and 3rd Sundays of each month, but please check the
BORP Calendar
for the most up to date information.
Fit Appointments are an opportunity to see the space, learn about our adaptive solutions, and have 1:1 time to establish the best boat and set up to meet your needs. They may take place on land or on the water and usually last about a half an hour. For many, a fit appointment is the first step before participating in Paddle Days. While fit appointments are not required, they are strongly recommended if adaptive kayaking is new to you, your concerns are complex, or if you'd simply like to learn more.
Paddle Days are fun times when many paddlers kayak independently around the Aquatic Park lagoon. We launch in ~20-30 minute intervals and will help with transfers, adaptive fit, boat moving and more. You can come alone or with companions. In some cases, BORP may be able to provide a tandem paddling partner if you need, please call to confirm. We always have safety boaters on the water.
To request a reservation, email
kayak@borp.org
or leave a message at 510-256-3533.
In Paddle Day reservation requests, please include the number of people in your party, if you have a boat/gear preferences, and your preferred launch time.
Balanced Events: In order to serve folks as fairly as possible, BORP kayaking is by reservation only. We will accept reservation requests mostly in the order they are received, but will make adjustments to ensure equal access to our gear, as well as to regulars and newcomers.
Kayaking is located at the BORP Adaptive Cycling Center at 80 Bolivar Dr. in Berkeley, on a one-mile long enclosed brackish lagoon in Berkeley's Aquatic Park.
The BORP Kayaking program features a number of universal design and adaptive solutions to help make kayaking successful for all. These include:
A wheelchair accessible dock with adaptive kayak launch a short distance from parking
A number of tools to assist transferring into and out of kayaks including: a transfer slide bench, transfer chairs of varying heights, and a motorized lift
Onsite accessible restrooms
A fleet of stable yet maneuverable kayaks, including pedal-kayaks
Stabilizing outriggers
Adaptive mitts and paddles
For more information, to sign up for kayaking, or to be added to the email list, please contact: kayak@borp.org.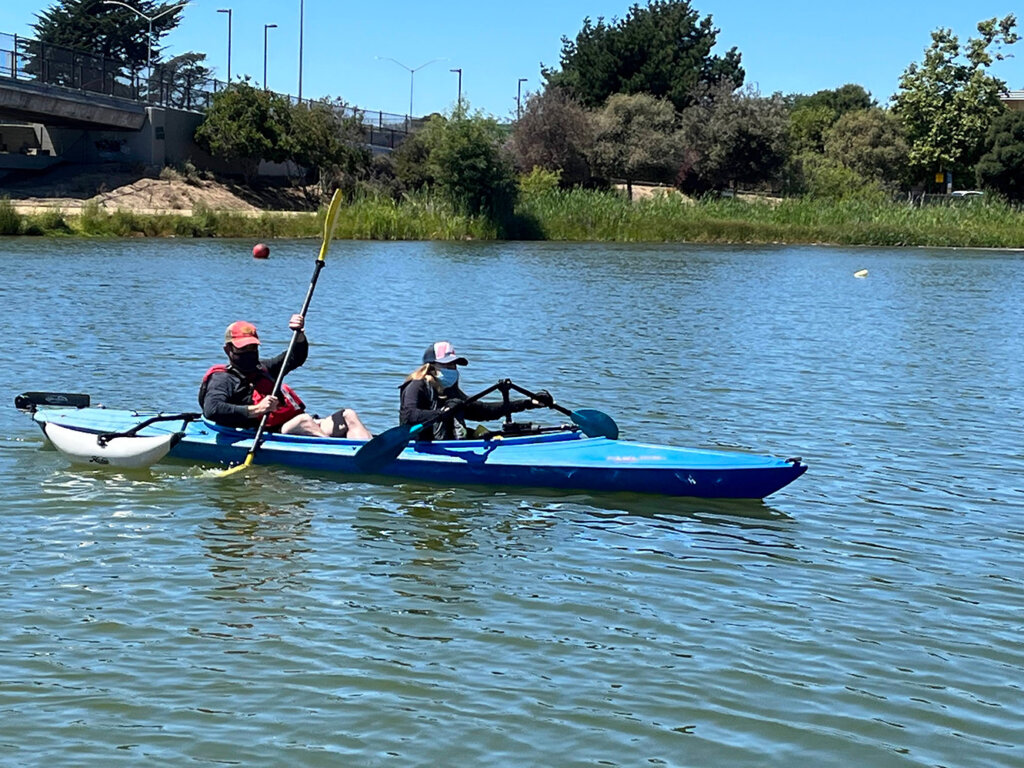 Volunteer with us!
We have volunteer roles for people of all skill levels and abilities. 
On Land Roles:
Welcome and Check In: Welcome and check in participants, ensure all forms are completed, and direct participants to where they can store belongings, and where the bathroom is.

PFDs: Ensure every participant is wearing a well-fitted personal floatation device (PFD) and that all straps are snug and fastened.

Set up & Put Away: Help set out and put away all our gear including lift, kayaks, paddles, PFDs, adaptive equipment, signs, emergency equipment etc.

Dock Assistance: Assist the dock manager with transfers, boat fitting, and launching.

Land Launcher: Assist those launching from land.

Dock Safety Watcher: Use sight and binoculars to watch kayakers on the water, and keep track of who is on the water.
On the Water Roles:
Primary and Support Safety Boaters: Experienced paddlers who can execute a rescue if needed, provide instruction and support with paddling, and any other support needed such as a tow. 

Boating Assistants: Paddlers on the water who can be nearby to offer assistance and alert Safety Boaters if need be. Must be independent in the water, but need not be experienced paddlers.

Tandem Paddlers: Experienced paddlers who can join another individual in a tandem boat for balance and power support. 
Like fixing stuff? 
We can always use support to keep our fleet and equipment working well. 
Group Volunteering? 
At least twice a year we host a group of volunteers to do routine cleaning and organization. We'd love to host your group for a fun outdoor service day!
Training opportunities are provided in the spring and throughout the year.