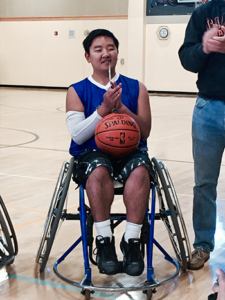 The top youth fundraiser for the 14th annual Revolution Ride and Festival was Matthew Hatae. Like many REV riders and fundraisers, Matthew himself is a BORP athlete, having participated in BORP's Youth Sports Program for more than nine years.
"Matthew embodies the spirit
of a true BORP athlete"
Matthew has tackled almost every activity BORP has offered, including sled hockey, adaptive cycling, track and field and basketball. When Matthew first came to BORP, he joined the Prep Basketball team and his team won the Prep National Championship in 2009. He went on to play varsity basketball and serve as co-captain of the Jr. Road Warriors for the 2015-16 season. "Matthew always gives every bit of energy and effort he has at every practice and has an incredible work ethic. He embodies the spirit of a true BORP athlete," said Coach Trooper Johnson. Matthew's teammates echoed the sentiment with one player saying, "If anyone deserves this, it's Matthew."
We were thrilled to be able to present Matthew with a basketball signed by the Golden State Warriors in recognition of his fundraising efforts for the 2016 Revolution. Congratulations, Matthew. And, from everyone at BORP, thank you!