Two new events have been added to the Adventures and Outings schedule in November and December:
Saturday November 19 | 11:00 am – Noon
World Dance Class at the BORP Fitness Center (Ed Roberts Campus)
Cost: $11 adults; $8 seniors
*If you haven't taken a class at the BORP Fitness Center before, please plan to arrive 15-30 minutes early to complete paperwork.
RSVP by November 15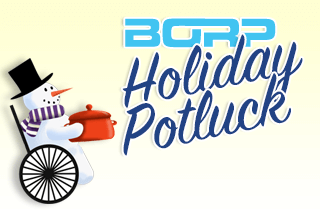 Saturday December 3 | Noon – 5:00 pm
BORP Holiday Potluck at the Ed Roberts Campus
Cost: $5 plus bring a dish to share (If you aren't a chef or don't have a dish to bring, please consider making an additional donation.)
RSVP by November 20
Plus there's still room to join us on Sunday, December 4 for a Hike along the Bay Trail, ending at Rosie the Riveter Museum | 10:00 am – 4:30pm 
This hike is a collaborative outing with the Berkeley Path Wanderers Association. Along this paved and level route, we will visit the Rosie the Riveter Memorial, Shipyard Stories and Friendship sculptures, Home Front historical markers, and the Barbara and Jay Vincent and Shimada Peace parks.  Sitting areas and restrooms are available along the route. We may also have an early dinner at Assemble. Optional add-ons:  Kite flying, picnicking, a playground, and the Visitor's Center
Cost: No fee for hike; cost of meal and tip
RSVP by November 15
For more information and to RSVP for these or any of our Adventures and Outings, call Lori Gray after 10:00 am at 510-843-4398.