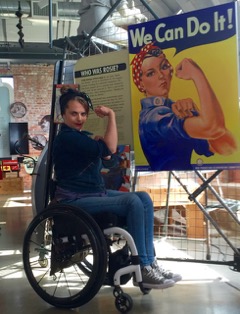 It's that time of year when the unpredictable weather makes planning a trip to a park a little iffy.  Not to worry because there are 3, mostly indoor, National Parks in the East Bay that are good options during the rainy season.  They include; Rosie the Riveter WWII Home Front National Historic Park in Richmond, John Muir National Historic Site in Martinez, and the Eugene O'Neill National Historic Site in Danville. This article will just cover Rosie the Riveter. You can find articles with accessibility information about the Eugene O'Neill site here and the John Muir site here.
Rosie the Riveter WWII Home Front National Historic Park was created to tell the diverse story of the home-front efforts during World War II by highlighting the city of Richmond, which played a critical part in building ships, jeeps, and tanks. The park encompasses historic structures, museum collections, and interpretive exhibits scattered throughout the Richmond waterfront and Bay Trail; the Visitor Center is the centerpiece and makes for a good indoor option. Using sounds and interactive exhibits this stellar museum takes a thorough look at the triumphs and controversies surrounding WWII and the people that worked behind the scenes, and how this nation came together believing in serving a greater purpose. The museum's three floors, restroom, and theater are barrier-free, and there is an audio tour available. You can also take a self-guided auto tour of all the various sites.
Just outside the museum is the San Francisco Bay Trail that you can follow for
one-mile to the Rosie the Riveter Memorial, an outdoor exhibit that showcases a sculpture that mimics the framework of a steel ship that workers built at the nearby Ford Assembly Plant. Photos on the sculpture and quotes inscribed into the ground on a pathway that extends to another metal framework at the edge of the bay, give context to the memorial.
Admission is free. Hours- Daily, 10 am-5 pm; closed on Thanksgiving, Christmas, and New Years Day.