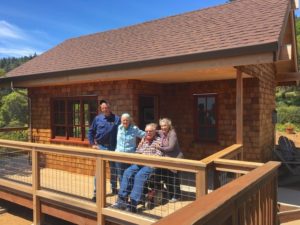 Perched on the upper south slope of Mt. Tamalpais is the historic West Point Inn; a magical getaway close to the San Francisco/Bay Area. Built in 1904 as a stopover and restaurant on the Mill Valley/Mt. Tamalpais Railway line, this rustic inn sits above the fog belt offering stunning panoramic views of the East Bay, San Francisco, the Marin Headlands and one tower of the Golden Gate Bridge. At night stars fill the skies.
Rustic and accessible don't often go hand in hand but this gem of an Inn is one exception with the caveat that the one-mile dirt road to reach the cabin may be problematic for some lowered floor vans due to road erosion; driving slowly helps. The Emig Cabin, a purposefully built accessible cabin (the other cabin and Inn rooms are not accessible) was built summer 2017 and features a private bathroom with a roll-in shower, a double and twin bed, and a small porch. Reclaimed wood paneled walls from Marin Municipal Water District's water towers enhance the rooms rustic charm. Unlike the other cabins or guest rooms at the Inn, the Emig cabin has electricity, heat, and hot water.  There is an accessible path of travel connecting the Emig cabin to the Inn and van accessible parking—the Inn is hike-in only unless you have a disabled parking placard. Other features of the Inn, all of them accessible, include a community kitchen, dining area, large living room and a spacious deck with expansive views. Guests will need to bring their own bedding and food; there is none on-site or nearby. Escape to this special place and you will likely not want to leave but to continue the magic, from the inn you can drive a short distance to the top of Mt. Tam and hike the wheelchair accessible Verna Dunshee loop trail.
It's best to make reservations by calling the innkeeper, 415-388-9955. Rates for non-members are $50 per person and require a two-person minimum per-cabin / per-night.