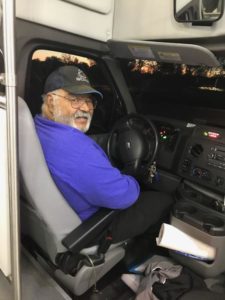 Everyone here at BORP wishes to express our gratitude for Joe Melancon, our BORP bus driver who retired at the end of 2017. Joe safely transported program participants for many years. He applied his knowledge of Bay Area backroads, highways and byways to ensure the best route possible for BORP adventures. The youth enjoyed talking to Joe about school, music, sports, and life goals during their shuttles. Joe's cheerful nature, story sharing, and bonus tour guiding will be sorely missed! We hope to see him at BORP functions this year and possibly riding at the Cycling Center.
Meet our new part-time BORP bus drivers: 
We welcome Michael Connor to the BORP team! He has experience working in the nonprofit sector and with youth and adults with physical disabilities. He enjoys the outdoors, driving, and has been a great driver and support on outings.
We welcome Mahasin Musawwir to the BORP team! She has experience working with youth and seniors with physical disabilities and loves the community that BORP serves. She is excited to share her excellent driving skills with the youth and adult program participants.