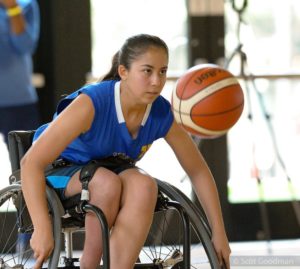 BORP hosted the 2018 NWBA Junior Division West Coast Conference Championship Tournament at the Arillaga Recreation Center on the campus of Stanford University on March 3-4.  The tournament played host to a total of nine teams, including teams from Washington, Oregon, Colorado, Utah, and California.  There were a total of 14 competitive games and two additional games, a "Girls Game" and an "All-Star Game" played during the weekend.  The Utah Rush defeated the team from ParaSport Spokane to win the Championship and secure their bid into the National Tournament that will take place in April.
The Jr. Road Warriors finished 7th in the conference and even though the team won this tournament last year, this has bee a rebuilding season for the team.
It was great to be on Stanford's campus for the tournament. We have a new partnership with the Young Athletes Academy Program at Stanford's Children's Orthopedic and Sports Medicine Center.  This new relationship will enable BORP athletes to access the following services:  sports medicine education (lectures on a wide range of topics), pre-season health assessments, access to "Ask a Nurse" program, and Injury/illness prevention programs.