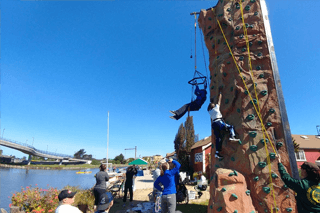 Come enjoy a day of fun at Sportsfest on Sunday, July 21! An all-day event (9am to 5pm), Sportsfest provides the opportunity for participants to try out some of BORP's adaptive sports and recreation activities. This year, we're featuring cycling, kayaking, an outdoor seated Tai Chi class, and rock climbing. There'll be plenty of information about BORP's other programs. A free lunch will be served.
Location: BORP Adaptive Cycling Center, Aquatic Park-80 Boliver Drive Berkeley.
Cost: Free for registered participants with disabilities and includes lunch. Family and friends are welcome but MUST also register and indicate the number of extra lunches needed. Cost is $5 per lunch and will be collected at the event.

Volunteers: If you and your family members are active BORP participants, we encourage you to not only participate, but to volunteer. There is plenty of opportunity to do both and it's a great way to give back to our awesome BORP community!
Sports Fest is funded by the Craig H. Neilsen Foundation.