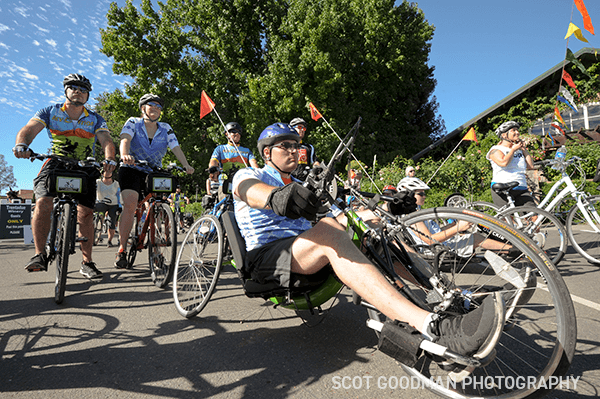 The REV brings together adaptive and non-adaptive cyclists in a fabulous, fun event that raises about $200K to support all BORP's programs. This year's ride will be held on Saturday, September 21 at the Hyatt Regency in Santa Rosa. Riders can choose between four rides in beautiful Wine Country:
A family-friendly ride along a scenic paved bike path (riders can go up to 10 miles, but less if they wish along this out-and-back route).
A 30-mile, relatively flat but lovely ride past vineyards and orchards.
A 45-mile ride that includes almost 3,000 feet of elevation gain.
A 70-mile ride that includes vineyards, redwoods, ocean views, and challenging climbs.
The Festival following the rides takes place in a lovely garden at the Hyatt Regency. There'll be music, delicious food, wine & beer, and free professional massages for riders.
Riders are required to raise $400. But don't worry, we make that easy with lots of wonderful tips and tools.
Use the code EARLYBIRD and register by June 30 to get 50% off your registration fee!
For more information, email elaine@borp.org