By: Elaine Beale, BORP Director of Development
The Revolution is a critical part of BORP's fundraising activities, raising about 20% of our budget each year. But this year, when the pandemic forced us to go virtual, we were worried about the event's success. Fortunately, the Revolution 2020 has been a story of a community rallying together to support BORP during this difficult time!
There are so many examples of people who contributed that it's impossible to list them all here. But just one example is the TBB Team, captained by BORP board member, Al Spector. Like many members of our board, Al was concerned about BORP's finances given the uncertainty caused by the pandemic. When he mentioned the idea of forming a Revolution team to other board members, several immediately said, "I'm in!" Al also recruited some friends new to BORP. Soon there were 18 members of the TBB team. Together, they raised more than $20K to support BORP!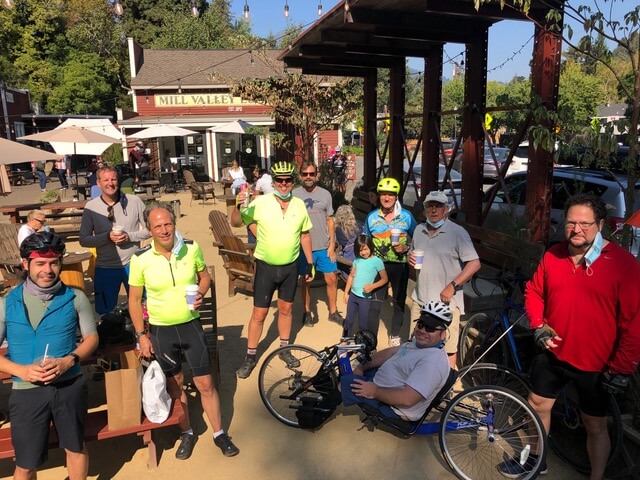 Says Al, "We made our team effort as inclusive as possible. Some members did the virtual classes and others cycled. Eleven of us cycled together, with most of that group doing a 10-mile ride from Sausalito to Mill Valley. It was a really fun day!"
Another team, Special Need for Speed, led by Brad Frazee, rode together over two days, raising over $14,000. And SA Photonics sponsored its own corporate team, raising over $20,600 for BORP. The Piedmont Peloton, led by BORP's executive director, Rick Smith, raised almost $16,000, and the Veloraptors, led by Steven Goldberg and Stephen Blair raised more than $15,000. Amazing contributions from them all!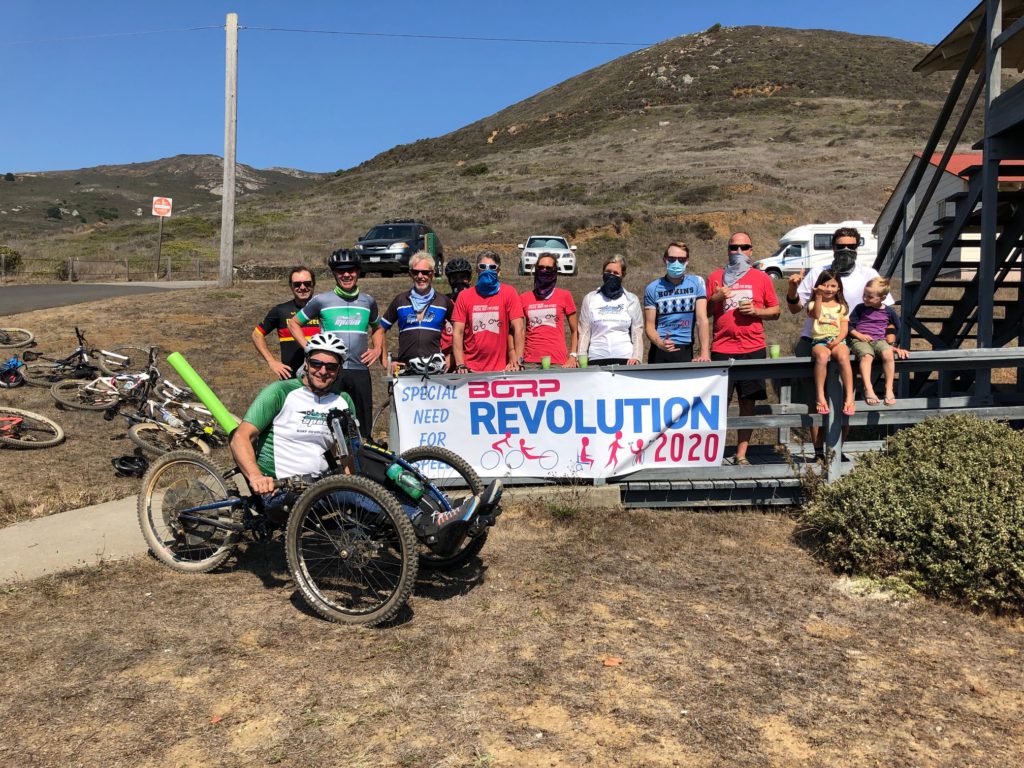 Other teams that helped make the event a success include: the DFL's led by Don Hunt; the Essential Wheelers, led by former BORP staffer, Betsy Dorsett; and Bring it On, led by current BORP staffer, Bonnie Lewkowicz; and so many more!!
Of course, we want to acknowledge outstanding individual fundraisers such as Will Randleman (number one fundraiser for the 4th year in a row!!), Carrie King, Jonathan Newman, Cynthia Noonan, Rona So, Jason Harris, Dawn Nakashima, Mark Webber, Steven Baronian, Debra Meyerson, Steve Zuckerman, Grayson Holden, Brandon Wong, Bruno Hester, and Hydeh Ghaffari.
And to all those who participated and took the step of asking their friends and family for support. No matter how much you finally raised, we are so grateful that you joined us!
Thanks have to be shared with some key individuals who helped with planning and implementation of the event, like Cynthia Noonan, Tina Ybarra (who also led three 'Rumba with Tina' classes over the Revolution weekend), Kristi Hruzewicz, Lori Gray (who also led the virtual hike), Leo Siecienski and Sarah-Dawn Smith. Additional thanks go to all the amazing instructors of the virtual classes—JanpiStar, Ralf Somack, Rachel Kahn, Nancy Yates, Carino Ho, Brent Kobs, Conner Lundius, Krishna Christine Washburn, and Kimm Ropicky. And a big thanks to Ryan Hussey, who led the virtual climb.
Jill Gorman, BORP's development associate, did an incredible job managing logistics and taking care of so many organizational tasks so that the virtual classes and activities ran smoothly. We're also indebted to Jill's husband Tagg and son Kyle who did such an awesome job of producing our launch and celebration videos. The Gorman family was definitely in the house!
Of course, none of this would have been possible without the 1,300+ donors who gave so generously to support BORP's work. And our corporate sponsors—Anthem Blue Cross, SA Photonics, McGuire and Hester, Clark Construction, Sutter Health, Waste Management, Fidelity Insurance Service, Columbia Sportswear, and Clif Bar—really stepped up with outstanding contributions this year.
All in all, the Revolution 2020 was a true community effort!! Here at BORP, we are grateful to everyone who contributed their time, money and/or energy. THANK YOU!!