July 2023 Article
Writer: Rian Dindzans, power soccer athlete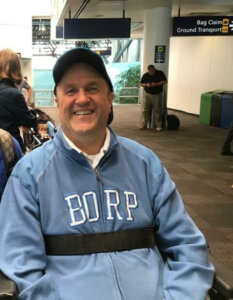 Nationals for the Shockers and the Golden State Ducks was a monumental event this year, being the first Nationals for the new Ducks team and the first Nationals since the start of the pandemic for the Shockers and our supporters. It was an emotional time for the Shockers especially because it was also our first Nationals without our former coach, Chris Finn, who passed in mid-June of 2020 and was beloved by players, coaches, referees, and even professional photographers.
Before Coach Chris' passing, the Shockers were going strong and experimenting with a risky – yet exciting – style of play known as 4-up, where all four players, including the goalie, consistently pass to each other as they move up-court. The pandemic and loss of our coach, as well as a reduction in team size, meant that the Shockers had to work harder than ever to build up to our previous level of play.
During the pandemic, the team held together. We held "practices" over Zoom where we watched recordings of power soccer games and discussed with each other and with Coach Chris what was happening in each play, and how it could be done better. When Coach Chris passed, it was like time stopped. Our hearts were broken because he meant so much to each of us. We all had him to thank for how big power soccer was in our lives and how much progress we made both on and off court. There was a brief, unsettling moment when none of us knew what would happen to the team. But after a couple days, we met, and unanimously decided to stick together. It's what Coach Chris would've wanted, after all – he put this team together. He believed in us, trusted us to go far, always try our best, and never give up, with or without him. We all held a high regard for his trust in us.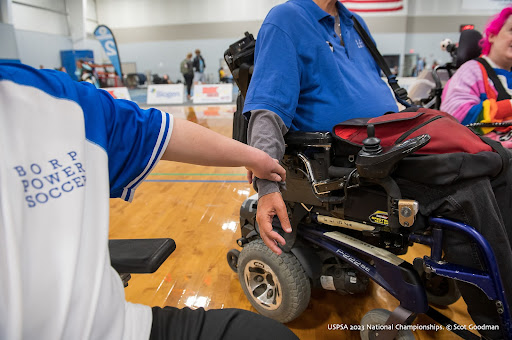 That single decision changed our trajectory. We continued to meet over Zoom, taking turns narrating the games we watched as we waited for the dust to settle and the wounds to scar, and we kept in contact as the pandemic dragged on, encouraging each other to take care of our health, keep masking, and remember how to smile. By the time the gym finally opened up again in January 2022, we had become a tight-knit team; we became even closer as it became clear only four of us, the bare minimum for a power soccer team, could return to practice (personal and medical issues, primarily the ongoing pandemic, made it difficult or unsafe for others). Our former teammate, John Madigan, stepped up to become the new head coach, and the Shockers were back in action.
For our first partial season back on the court in spring 2022, the Shockers focused on polishing our basic skills, ensuring the foundation of play for the team was still intact. We met regularly to practice, and to go over our playbook collectively and revisit or revise past strategies. John settled into his role as coach, as Ruby Shemaria, Margret Mele, Ian Kinmont and I (Rian Dindzans) learned how to interact with each other on court again. Playing with the bare minimum number of players was rough upon returning, but we trusted each other off-court, and we were ready to build that trust on-court too. That trust and the numerous repetitive drills targeting our basic skills paid off, and despite missing the first Nationals since the beginning of the pandemic due to low player numbers, we entered the 2022-23 season, our first full season since the pandemic, with more confidence than before.
Midway through this season, we accepted an invite to a 3-day tournament in Phoenix, Arizona that closely imitated the environment, schedule, and level of play we would face at Nationals. Despite having only four players and playing one game with only three after a red card (an ejection for the current game and the next) for a failed speed test, the Shockers held their own and earned a couple wins and ties that countered any losses. The energy was high, and we could feel it: we were ready, and if we trained hard enough, we had a shot at real competition if we went to Nationals.
But the question was "if". If we chose to go to Nationals, If we had enough players able to go, If each of us had the support and caregiving staff we needed to make it happen. What would we do if our chosen airline broke our soccer chair, or our everyday chair? Both are essential to the event. If one of our soccer chairs broke, would we be able to fix it in time to play? If one of our everyday chairs broke, how many medical complications (such as pressure sores) would arise, and would it impact our ability to play? If the airline broke a chair and if it acknowledged its mistake, would it do anything about it in time to mitigate the consequences?
Just a couple years prior, in late 2021, disability rights activist Engracia Figueroa had died after United Airlines damaged her wheelchair, which was custom-made to her and her spinal-cord injury. The airline provided a loaner wheelchair, but for months did nothing to help replace her chair with one that protected her from further medical complications. As a result of sitting in a wheelchair not customized to her medical and disability related needs both for five hours in the airport after her flight and for months following, Engracia developed a skin ulcer that became fatally infected. Engracia is only one of thousands of disabled people whose mobility devices have been damaged by the recklessness of airline employees. According to the February 2023 Air Travel Consumer Report, in 2022 alone, airlines collectively mishandled (read: damaged) 11,277 wheelchairs or mobility scooters.
Because of these risks, making the 2,200+ mile trek to Fort Wayne, Indiana for Nationals was a decision to consider carefully. While driving would avoid the risk of airline and airport personnel damaging our wheelchairs, it would be at least a 3-day power-drive, and that's not something everyone can do due to work constraints and medical concerns from sitting in a car for so long. On the other hand, while flying is much faster and works better for those of us with only a few days to dedicate to the trip, the risk of something going wrong could not be ignored. When we first started thinking about Nationals again, there were only four of us. If anything at all went wrong for any of us, we wouldn't be able to compete. These same dilemmas plagued us a year prior, when we ultimately decided not to go. However, missing two years in a row would hurt, especially considering the United States Power Soccer Association (USPSA) had named the first-place award for each cup after Chris Finn.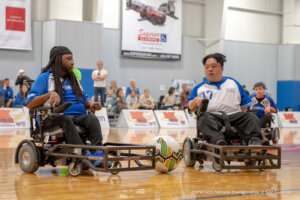 Then, Stanley Kuang, former BORP Crusher and San Jose Steamroller, joined the team. Not only was he an excellent player who could commit to Nationals – meaning that, if something did happen to one of us, we could still compete – he was a familiar face, and a friend. As tight-knit as we were, the adjustment period was relatively small, and he was soon one of us as the weeks of practice went by. And with this new development, we decided to go to Nationals. Not only did we have the skill and determination, but we now had more support than before, and the risks were tilted in our favor.
After two long seasons and one missed Nationals, we were finally going to reunite with our nationwide friends and rivals. We made our travel plans, our back up plans, arranged caregiving staff, practiced hard, and competed with determination in the few games leading up to the event. Each of us had come into our own and grown in so many ways, and we were excited to take our team, which had been through so much together, to the next level. We were ready, none of us more so than Ruby, who hadn't missed a single practice or game this season.
Just a couple weeks before our departure dates, however, Ruby suffered a mysterious sickness, dragging her to the ER and hospitalizing her multiple times. Something was wrong with her, and no one could figure it out. After a brief recovery followed by yet another setback, she had to step out of the competition and focus on her health.
This was undoubtedly the best decision, but a wave of uncertainty resulted. We couldn't just not go after working so hard, and all of us – including Ruby – still wanted the team to compete. But could we pull it off, not just get there and back in one piece, but keep up with the pace and level of play demanded from us? As a team, as soon as we decided we were going to Nationals, we also decided we were going to shoot for first place. Achieving that – or even finishing in the top four – would be a monumental task. Mine and Stanley's batteries tend to overheat easily in intense games, and none of us wanted a repeat of the failed speed test and subsequent red card (which boots the player from the current and next game, and forbids substituting for them – not that we had any substitutes – forcing their team to play three versus four) from the Arizona tournament. Playing with no substitutions takes a considerable mental toll on players as well, because you're always on high alert. Sure, we'd played with only four for a while, but the games at Nationals are higher stakes, and we'd already grown used to having at least one other player to substitute with. Could we do it?
We decided to try. We had come this far, and we weren't going to back down in the face of uncertainty. Ruby promised to watch the livestreamed games and cheer us on from home, and we carried the memory and pride of Coach Chris with us to Nationals. To hell with "do or do not" – we were going to give it our all and come home with an experience we could be proud of. We wanted to win, and we were going to fight for every victory. We weren't going to give up.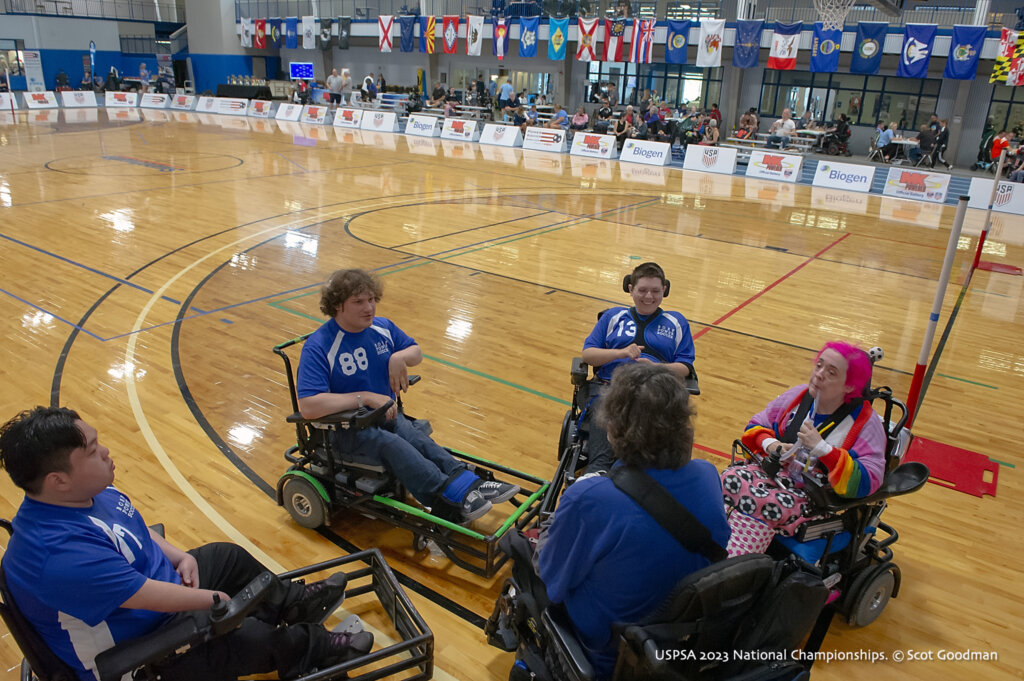 Nationals starts with "pool play," a round-robin stage where teams compete within a group (or pool) to earn points. A win nets a team 3 points, a tie 1, and a loss 0. The points you earn determine where you'll be seeded in the bracket stage, where teams compete to determine who moves on to challenge for first place. While teams can tie in pool play, they cannot in the bracket stage – if there is a tie by the end of the second half, teams play two 5-minute overtime periods with no breaks. If the teams are still tied, teams play 10-minute "sudden death" rounds until one team scores.
We all arrived the day before Nationals. My family and I had chosen to drive to Indiana with my soccer chair taken apart and nestled snug among our luggage in the trunk. We took my soccer chair to the gym to get it set up before the next morning. Inside, a few people were milling about – some players, a couple family members, one or two gym employees. But the lights were on, and the court floors were shining. I took a deep breath. We made it. Relief and excitement washed over me all at once, and for the entire time I was in the gym, and every time after for the rest of the weekend, that bursting feeling of pride and awe never left me. We were here, and it was magical.
We'd overcome our first obstacle: get to Indiana in one piece. But it was a rough trip. Stanley's flights were severely delayed, and he did not arrive in Ft. Wayne until 2 am, while my family and I were exhausted by four solid days of driving. Even for those of us who had relatively smooth flights, the jet-lag and entire process of flying was draining, as always even for abled people. Doubly so for us, with all the sports and medical equipment to stress over.
It was in this state we started Day One of Nationals, entering pool play tired but determined. Running on adrenaline and caffeine, we won our first game against the Brooks Barracudas from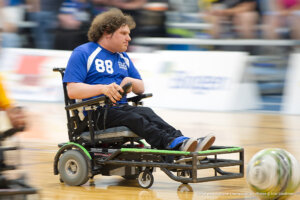 Jacksonville, Florida, 2-1 in a tight match. Despite the invigorating win, our energy crashed in the second game, a 1-3 loss against Adaptive Sports Ohio (ASPO) Force. We understood what contributed to the loss, however, and strategized to improve the next day (a good night's sleep being among the action items).
We began Day Two of Nationals ready, well-rested, and awake. We tied our last pool play match against the Los Angeles Soccer Club (LA SC) 2-2, trying our best to communicate despite the loud environment, and using our momentum to keep up a chain of passes. We had played against LA SC in Arizona, and they hadn't seemed to be a very cohesive team. There was an imbalance in aggressiveness versus defense, and it cost them in their game against us. At Nationals, they were a true contender and had finally hit their stride. It was delightful to play against such a talented team, composed of many young players! The tie was well worth it, and it was gratifying to see the other teams in our conference grow as much as we had.
With the tie, we had earned 4 points, which landed us in the quarterfinals against… The Golden State Ducks! We joked about it incessantly before and after the match, poking fun at each other about how "we went all this way just to play the neighboring team" as we lined up for speed testing. As soon as we hit the court, though, it was on. The Ducks had gone toe-to-toe with the Shockers throughout the season, exchanging wins and losses in aggressive, high-energy games. The Ducks had won two of their pool play games and tied one (meaning they had 7 points) and were ready to put another notch on their belt. But so were we. This was the quarterfinals, our first bracket round. There had to be a victor, and just like all our previous matches, each team played their hardest.
The Ducks opened the game with a bang, scoring in the first two minutes on a set play. The Shockers picked up the pace afterwards, keeping aggressive mid-court defense until they finally scored mid-way through the first half on a corner kick. Not two minutes later, the Shockers scored again from a mid-court kick-in across to the far wing, putting us in the lead. Near the end of the half, the Shockers scored again in active play, capitalizing on accurate passes and hard kicks. Entering the second half, the Ducks scored again when the ball temporarily crossed the line despite Margret and Stanley's block. In the last five minutes of the game, the Shockers scored yet another goal on a set play – only for the Ducks to come back with their third goal, a quick shot that ricocheted between Ian and Margret, in a bid to reach a tie and trigger overtime. Time ran out, however, and the Shockers left the game with a 4-3 win. Winning their quarterfinals was a first for our team, and a chance to place! We were moving on to the semifinals, a cause to celebrate in itself.
Despite the pride, we weren't done yet. Our quarterfinal win gave us a semifinal re-match with ASPO Force on Day Three of Nationals. This time, we wouldn't go down so easily. We were tense, because we knew that if we won we would finish at least second; a massive achievement and a doorway to even greater challenges, as both the first and second place winners move up a conference for next year's Nationals. We kept the score 0-0, but in a critical moment, ASPO played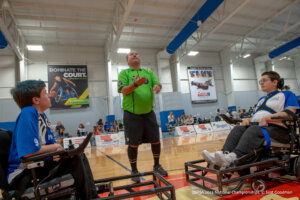 their cards right and scored an unstoppable goal. We continued to keep our spirits up, continuing to pass, take shots on goal, and play a near-insurmountable defense, but the clock was still ticking, and we weren't scoring. In the end, we had stopped every attempt to score afterwards, but we couldn't quite manage to score ourselves. We lost the match 0-1, sending ASPO Force to the championship match and making them eligible for the Champions Conference next season.
The loss was disappointing, but we couldn't afford to let it get to us. It was still a great game, and part of this sport is accepting the goals made against you. ASPO's goal was beautiful, and as a player, I'd rather they score against us with a well-executed play than by a fluke. We took a deep breath, remembering the mindfulness Coach Chris taught us, and centered ourselves for the third place match. We still had a shot at placing on the podium, and we weren't about to let a fair loss shake us.
Our final game was against the South Texas Regional Adaptive & Para Sports (STRAPS) Scorpions, from San Antonio, another team we faced in Arizona, who had just lost in overtime against LA SC (who went on to finish first). And shaken we were not! This game was by far one of our best, with some of the most beautiful passes between Stanley, Ian, and I that we've seen all season. We screamed over the noise of the first-place match on the neighboring court, bidding to be heard by each other and stay on the same page. We put the pressure on the Scorpions, getting in their faces and making sure they couldn't push us around like in Arizona. It more than paid off – by the end of the match, we had won by a shocking 5-0 score. I forgot to breathe for a moment as the whistle I could barely hear blew, and I stared at the scoreboard. We scored five whole goals, and not a single goal made it past Margret, our goalie. And then it hit me – we had done it! We won third!
Before every half, we did one of two cheers: "Ruby"; or "Finn". We alternated between the two, keeping both of our teammates in our hearts throughout every game. Neither were there with us in person, for different reasons, but both were with us in spirit, and we felt it in the way we played with each other. Every pass, every strategy, every phrase of communication was rooted and strengthened by Ruby and Coach Chris, words of encouragement from the past and pressure to do our best throughout the season combining into teamwork that felt like magic. Ian and Margret held me as I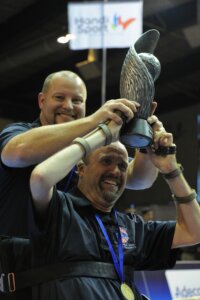 cried afterward. We miss Chris every day, and I know he would've been crying too if he were there. He was just as big of a sap as I am. He would've been so proud of us, not just because it was the first time we've placed at Nationals, but because everything he tried to inspire in us during our time with him came to fruition throughout the tournament: communication, passing, aggressiveness, active defense, flexibility, fun, and trust. It wasn't gold, but it was ours, and the journey we took to earn it is worth every pound of the gold trophy.