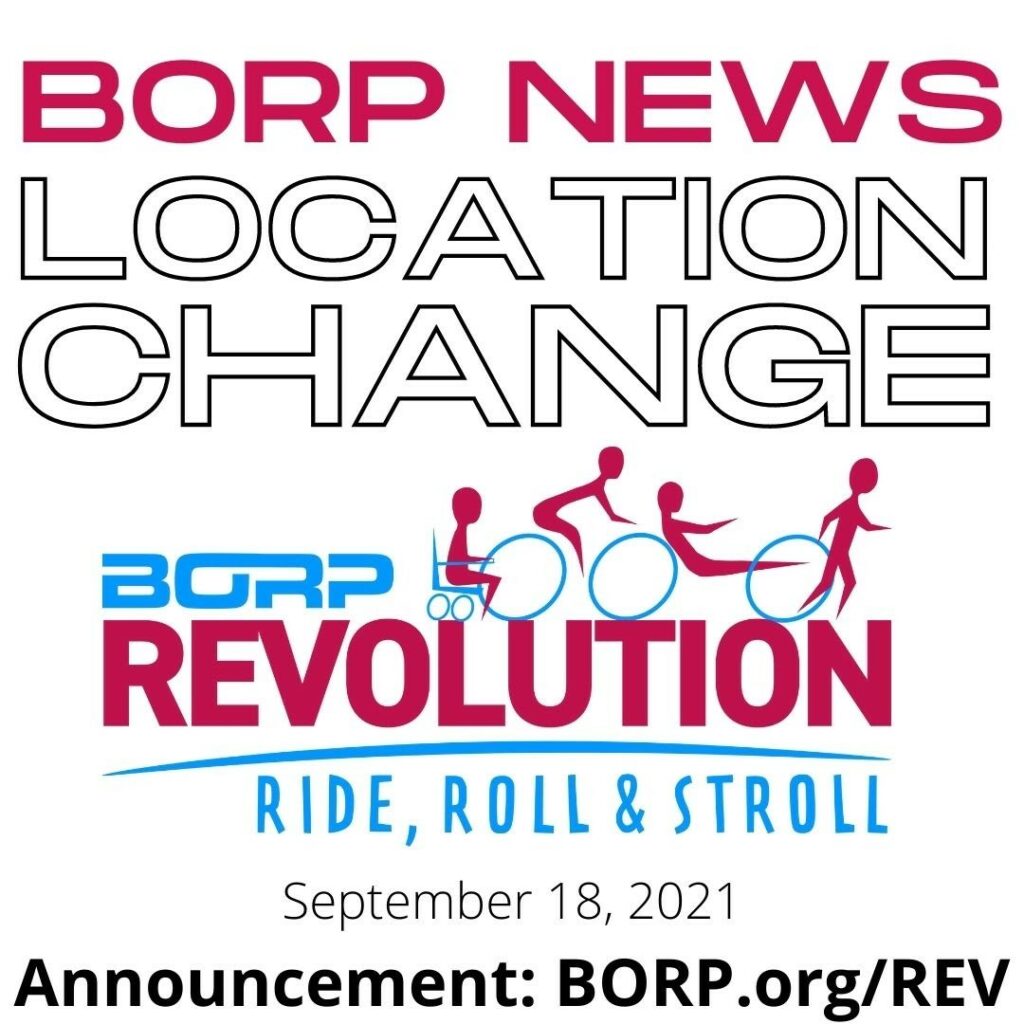 In the wake of recent increases in COVID-19 rates due to the Delta variant, BORP has decided to move the 2021 Revolution Ride, Roll & Stroll on Saturday, September 18th from Santa Rosa to Berkeley, CA.
Moving the event from Santa Rosa to Berkeley allows us to have greater site control to safeguard participants. It also means that we can hold a fabulous and fun, in-person Festival locally to which all Revolution participants are invited.
Given the sudden nature of our venue change, the location and time of the Revolution Festival is still being finalized. We will provide more information as soon as we can.
COVID Safety
To support event safety, attendees at the Festival will be required to show proof of full vaccination against COVID-19 or a negative COVID test within the previous 72 hours. Masks will be required in any indoor areas of the Festival.
The Routes
BORP Suggested Routes
Unfortunately, the move means that BORP will not be able to provide any supported rides for cyclists (i.e., no SAG Wagons, rest stops, or refreshments on route.) HOWEVER, we are planning to provide suggested routes for participants (and their teams if they have one) to take on 9/18, starting and ending at the BORP Cycling Center. We will hold group rides for adaptive cyclists and friends and family.
Suggested routes will go along the San Francisco Bay Trail and will be from 5 miles long to about 50. There are some wonderful options, including going south to cycle on the Bay Bridge or even as far as the San Mateo Bridge, or north to Richmond, across the Richmond-San Rafael Bridge and into Marin County. Participants can also circle the lake at Aquatic Park adjacent to the BORP Cycling Center (about 4 miles).
Do Your Own Route
Or, participants can complete their ride (or other activity) in another location anytime during the month of September. And no matter where or when participants complete their activity, you are welcome to the in-person Festival on September 18th.
Fundraising Updates
Fundraising minimums for all adult participants are now $250, and $125 for youth ages 9-17. (Though, of course, we encourage everyone to raise as much as you can to support BORP's programs!)
For Participants Who Cannot Attend the 9/18 Festival in Berkeley
Folks are highly encouraged to sign up for the Revolution even if you can't attend the live event in Berkeley on 9/18/2021. In fact, we need your support now more than ever!
You will still be eligible to receive all the incentives offered to other participants. Your fundraising will directly support BORP's programs. And you will also have the option of following a live stream of the event and to take part in some fun online activities.
Volunteers
BORP will still need volunteers to help at the Revolution Festival. This will include helping out at the Festival, cheering on participants in BORP suggested routes, and helping with a variety of other tasks. For more information about volunteering go the Rev website and look out for opportunities on BORP's social media.
A Critically Important Fundraiser
As everyone knows, the pandemic has caused a lot of financial uncertainty for nonprofits like BORP. The Revolution Ride, Roll & Stroll is BORP's most important fundraiser of the year and we still need your support–now more than ever, in fact. We are planning a fabulous, fun Revolution Festival in Berkeley that will bring together our community in a safe environment. Please sign up for the Revolution now!!
Registration is open. Sign up to Join the Revolution!
Have more questions?
The Revolution Website FAQ section has been updated, and we at BORP are always happy to respond to your questions: you may reach out to us anytime by emailing RevRide@borp.org.