Thursdays 7:00-10:00pm
on Coast Guard Island (2 Eagle Rd, Alameda, CA).
For more information please contact Jonathan Newman at (510) 225-7032 or
jonathan@borp.org
Want to Play?
Adult basketball is an integrated co-ed activity that challenges participants to improve their fitness, learn and refine skills, and play ball. Rules are similar to NCAA Basketball. No experience playing wheelchair basketball is necessary. Basketball wheelchairs are provided if needed.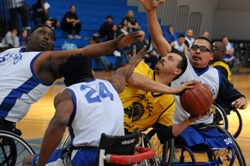 Join the All Stars
Participants in the program can also join the BORP All Stars, BORP's adult basketball team. The All Stars compete in the California/Nevada League and host a league tournament in the spring.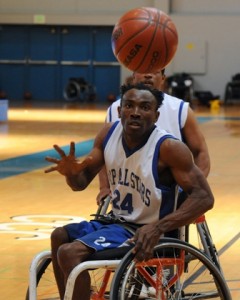 We would like to thank Scot Goodman for the many photos he has contributed:
High quality prints and digital copies of Scot Goodman's photos are available.