The 19th Annual BORP Goalball Invitational Tournament was this past weekend and while the temperatures inside the gym matched the record breaking cold outside due to a heating malfunction, the action on the court was hot, hot, HOT!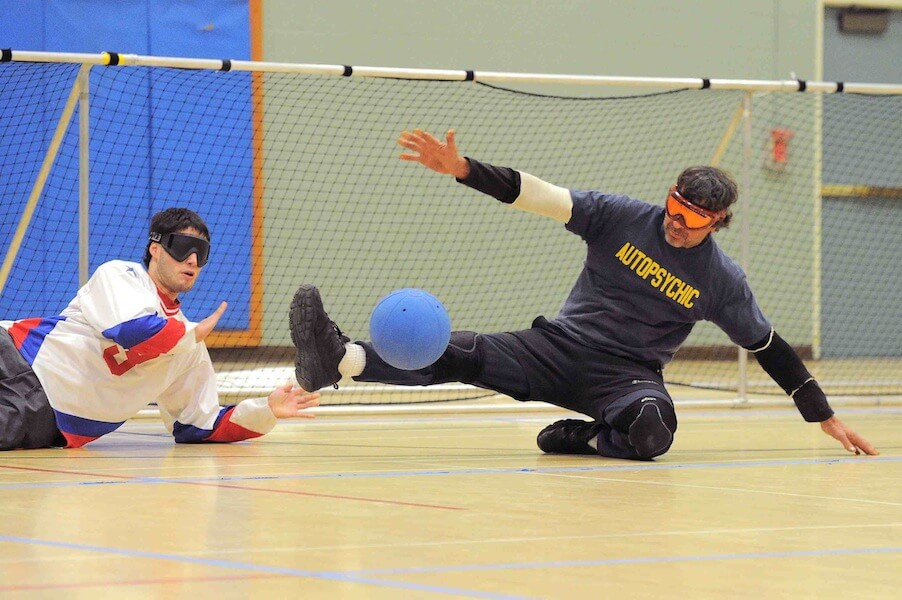 Two landmark occurrences that deserve special note contributed greatly to the excitement and quality of the event:
1)   For the first time in tournament history U.C. Berkeley fielded a team!  The Cal roster was comprised of students from the new UC Berkeley Goalball class. Thanks to Matt Grigorieff, Jessica Adams, Derek Van Rheenen and Cal for creating a new opportunity for goalball in California. Go Bears!
2)   For the first time in tournament history we had nets!  Thanks to Matt Boyle and the Sacramento crew for loaning us their nets and for coming early and staying late to put them up and take them down.
The Games
Last year's champions, Nillasauras, returned in 2013 as the Brass Giraffes and added Matt Boyle to their roster ( joining Joe Hamilton, Christella Garcia, Roger Acuna) for this year's title defense. Joe and Christella were working on a 3-peat while Roger was looking at adding to his ongoing championship team record of 7 (with several different teams).
Looking to knock them off were:
Hayward Auto Care: Bill Johnson, Victor Hakopian, Abel Del Toro, Stephanie Spenny
Death Weasel Conspiracy: Tom Foley, Erin Lauridsen, Shen Kuan, Sergio Lopez
Cheers: Brandon Young, Khemnesuel Fisher, Mandy Gargano
Meerkats: Jon Marcotte, Jon Simeone, Karla Gilbride, Matt Simpson
CAL Goalden Bears: Jessica Adams, Maggie Lee, Anne Kwong, Erik Elvebak, Connor Sweet, Tomas Zerbino
The Meerkats were involved in the two closest games of pool play with a 4-3 win over Death Weasel Conspiracy and a 2-3 loss to Brass Giraffes.  The deciding goals in both games were scored late in the second half just as draws looked imminent. The Meerkats also earned the most frequent-flyer miles with players from Sacramento, Portland OR, Colorado Springs and Washington, DC making the trip to chilly California.
Cal had beginners jitters in their first game but worked out the kinks and played much better in their second game, a loss to Hayward Auto Care. Cal's second match featured the block of the day as Cal's Connor Sweet blocked Hayward player Abel Del Toro's rocket shot… with his face!  Thankfully Connor was not injured and he insisted on staying in the game.  Cal's improvement throughout the day was tremendous and we look forward to having them back next year.
Death Weasel Conspiracy played solid defense all day and gave up the second fewest goals but had trouble generating offense.  They finally got it going in the 5th Place game as all 4 players on their roster tallied at least one goal and they stormed back from an early 3-0 deficit to defeat Cal 8-3.
Hayward Auto Care rolled over the opposition amassing 18 goals in two games, all but one scored by the one-two punch of Victor and Abel.  Bill kept his ongoing record of being the oldest player (fifty- something) to score a goal at the BORP tournament by notching one in the Hayward's victory over Cal.  With his current total of 87 and his rate of 1 goal per tournament over the last 3 years Bill should reach the 100 goal mark in 2026.  Mark your calendars!
Cheers had an up and down day and just missed on making the (imaginary) podium. Newcomer Mandy Gargano led all female players with 3 goals, Khemnes played solidly in the middle and Brandon displayed his full arsenal of power, placement and trickery on offense.
Anchored in the middle most of the day by another BORP Tournament rookie, Matt Boyle, the Brass Giraffes dominated their opponents with excellent defense not allowing more than 3 goals in any game.  Through pool play and their semi-final the Giraffes managed just enough offense to win going 4-0, 3-2, and 4-2. The championship was the same story on defense for the Giraffes as they held Hayward to 3 goals (6 goals under their average) and came to life on offense with an uncharacteristic eight goal barrage.
Order of Finish
1st Place: Brass Giraffes
2nd Place: Hayward Auto Care
3rd Place: Meerkats
4th Place: Cheers
5th Place: Death Weasel Conspiracy
6th Place: Cal Goalden Bears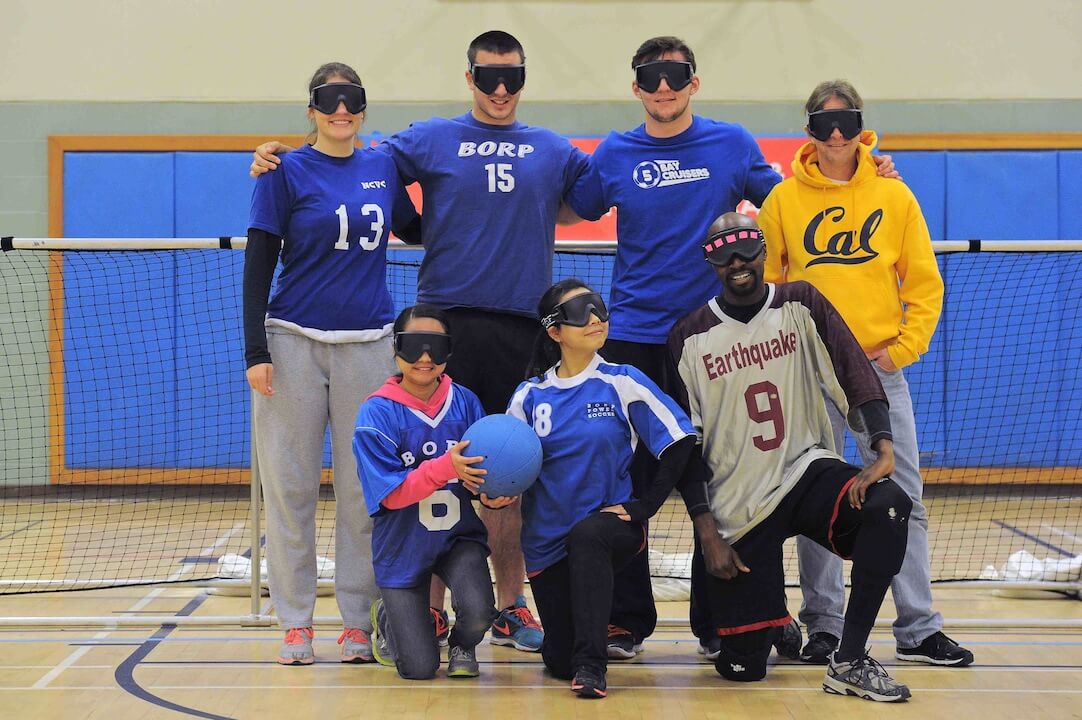 STATS
Individual Scoring Totals (Team High Scorer in Bold)
Abel Del Toro: 16 (Hayward)
Brandon Young: 15 (Cheers) (2nd in career goals with 124)
Victor Hakopian: 13
Matt Simpson: 11 (Meerkats)
Joe Hamilton: 10 (Giraffes)
Roger Acuna: 5 (Roger maintains his most career goals top position and is now at 127!)
Sergio Lopez: 5 (Conspiracy)
Khemnesuel Fisher: 5
Connor Sweet: 4 (Cal)
Shen Kuan: 4
Jon Marcotte: 4
Tomas Zerbino: 3
Mandy Gargano: 3
Tom Foley: 3
Christella Garcia: 2
Karla Gilbride: 2
Matt Boyle: 2
Jessica Adams: 2
Erik Elvebak: 2
Jon Simeone: 2
Anne Kwong: 1
Bill Johnson: 1
Erin Lauridsen: 1
Congratulations to Victor Hakopian on his 10th year at the BORP Tournament!  Victor received the traditional 10th year hooded sweatshirt and a certificate honoring his commitment to the tournament and BORP.
THANK YOUS (It's a long list)
For 19 years we have been fortunate to have a stellar cast of sponsors and volunteers that generously give time, money, product and services to make the BORP Goalball Invitational the amazing event it is.
Our Beloved Sponsors
Innovative Interfaces – 19 years
Nakashima Fine Arts – 19 years
Sue Johnson, Custom Lamps and Shades – 18 years
Scot Goodman Photography – 18 years
Vision Faire Optometry – 15 years
Zander Associates, Environmental Consultants – 13 years
CamelBak – 8 years
Ikeda/Greenwood Family – 3 years
Hayward Auto Care – 1 year
Others of note
Delta Gamma!!!! Volunteers! Cookies! Fundraising! I cannot imagine BORP Goalball without the DGs and hope I never have to.
Claire Watanabe for all her efforts on BORP Goalball and BORP's behalf.
Lucy and Mike for hosting their traditional and delicious post-event chili dinner for all participants.
Bill Johnson for his kind, untiring support of BORP Goalball.

XIX Volunteers
Bill Johnson: 18 years
Lauran Beyer: 2 years
Scot Goodman: 18 years
Loring Barker: 12 years
Susan Adams: 1 year
Janet Ziegle: 16 years
Loren Corotto: 16 years
Don Misumi: 8 years
Leslie Zander: 13 years
Dave Ely: 9 years
Amy Loberg: 1 year
Kelsey Stamnes: 1 year
Emily Norris: 1 year
Phil Wiegand: 16 years
John Spradling: 1 year
Emma Kahlbeck: 1 year
Elizabeth Vidar: 1 year
Jackie Mack: 1 year
Christina Kirby: 1 year
Erin Badduke: 1 year
Meha Bakshi: 1 year
Emily Smith: 1 year
Andy Jokelson: 18 years
Scott Smith: 1 year
We're looking forward to the 2014 BORP Goalball Invitational XX!  See you there!
Blog post by Jonathan Newman.  Edited by Josh Thelin.  2013 BORP.