While BORP does not offer adaptive baseball, we are happy to get the word out about opportunities offered by community partners and other local agencies.  Our friends at North & South Oakland Little League (NOLL/SOLL) have announced that registration is open for the 2014 Challenger Division*.  Challenger baseball is FREE to play for eligible kids and there is no charge to register.  Games are played on Sunday afternoons from mid-March through mid-June.
Families who live in the cities of Oakland, Piedmont, Emeryville or Berkeley (South of Virginia Street) are eligible to play in NOLL/SOLL.  You can search for information on Challenger Divisions in other locations here.
For more information on NOLL/SOLL Challenger Division baseball, contact Jim Balich at: (510) 465-3998 or jrbalich@earthlink.net .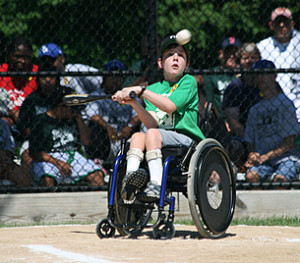 *Challenger Division was established by Little League in 1989 as a separate division to enable boys and girls with physical and mental challenges, ages 7-18, to enjoy the game of baseball along with the millions of other children who participate in this sport worldwide.  Today, more than 30,000 children participate in more than 900 Challenger Divisions worldwide.
Teams are set up according to abilities, rather than age, and can include as many as 15-20 players. Challenger games can be played as tee ball games, coach pitch, player pitch, or a combination of the three.