In this new blog series, we talk with Bay Area Outreach and Recreation Program (BORP) participants and athletes about their lives, interests and experience with BORP.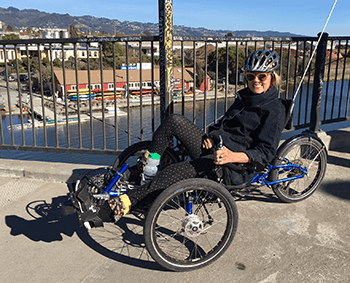 On most Thursday and Saturday afternoons, Katherine Sherwood can be found cycling along the Berkeley waterfront with her partner. "He's always been an avid cyclist. He found out about BORP about three years ago and told me about it." On their first visit to BORP's cycling center, Greg Milano set them up with a side-by-side tandem. Katherine loved it right away. "I really liked to go fast."
In 1997 Katherine was a teacher and promising painter when she lost the use of the right side of her body as the result a major cerebral hemorrhage. But, she says, she never lost sight of the fact that she wanted to get back to teaching and making art. Katherine's love of going fast seemingly also applied to learning to paint with her left hand. And soon her career began to reach new heights. Just three years after her stroke, Katherine's artwork was featured in the prestigious Whitney Museum's Biennial Exhibition in New York.
Much like her quick return to art, it didn't take Katherine long to graduate from the side-by-side to an inline tandem bike. Riding at BORP regularly, Katherine was getting stronger, more independent… and faster than ever. Then one day she got to the cycling center to find that the tandem bikes were being used. "Greg just looked at me said, 'I think you're ready to go solo.' And I'm so glad he did!"
Recently retired from long and illustrious career of teaching painting and disability studies at UC Berkeley, Katherine spends her time focusing on her involvement with disability advocacy at UC Berkeley, working with a few graduate students, and cycling.
Katherine says that cycling at BORP has made her life better, allowing her get aerobic exercise and to spend time with her partner doing something that they both love. "Everyone at the cycling center is exceedingly kind and helpful. They've become my BORP family."
"They've become my BORP family."
Today Katherine's bike of choice is the ICE Bike. "They call it the sports car of bikes," she says with a smile. Katherine still likes to go fast.
---
Katherine Sherwood: A Retrospective Exhibition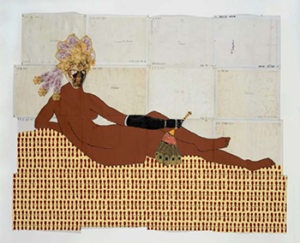 Katherine Sherwood's artwork will be on exhibit at the Worth Ryder Art Gallery (116 Kroeber Hall, UC Berkeley Campus) from October 19 through November 4, along with a special exhibition of several of her former students. Katherine's most recent series, Venuses of the Yelling Clinic, feature iconic, proud disabled female figures rendered on the reverse of antique prints of art historically significant paintings. Click here to learn more