The BORP All Stars went 4-1 at their home tournament, the BORP Hoops Classic 14 on Coast Guard Island, March 11-12.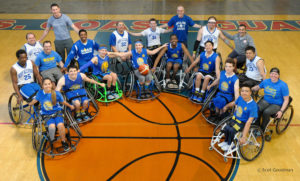 After a first game loss against the San Jose Spartans, the All Stars got into a winning groove and picked up victories against the Sacramento Royals (44-36), Santa Rosa Blazers (41-19), Central Valley Ballers (54-19) and the BORP Jr. Road Warriors (34-23).
The All Stars defense and rebounding was the key to the All Stars' success and led to many easy buckets. Offensive contributions came from all quarters as the players energetically picked, screened and passed until a good shooting opportunity was created.
This was our first year using the Coast Guard's Emlen Tunnell Gym and it proved to be a wonderful venue for the BHC. The hardwood court is a classic bball surface and the gym is spacious and well-lit with lots of room around the court for hanging out and socializing.
Watch coverage of the tournament from John Ramos of KPIX
For pictures of the tournament see albums by Scot Goodman (Scot Goodman Photography), and Sherrie Theriault and Francine Truscello (Dog House Photography).
THANKS!!!
Many, many thanks to the Coast Guard and Max Jenny for providing the awesome gym and the support for BORP, wheelchair basketball and the BHC! Hopefully we will be here again for BHC 15!
Thanks to our hard-working referees: Mario, Myles and Li for their great officiating and expert game management from start to finish!
Many dedicated volunteers helped make the BHC a success. Thanks to Jeremiah, Dave, Ty, Andrew, Max, Lars, Ben, Kerry, Aidan, Mark, Emily, Enzo, Elio and John.
Thanks to all the families and friends for the donations and enthusiastic support for the teams all weekend (and helping with clean-up)!
Thanks to all the teams: San Jose Spartans, Sacramento Royals, Sacramento Cager, San Jose Blazers, Central Valley Ballers, Reno High Rollers and the BORP Jr. Road Warriors for the spirited competition and being on-time! It was great to see former BORP youth player, Bao Yang, coaching and playing for the newest team in the league, the Central Valley Ballers.
Thanks to BORP All Stars Coaches, Tony and Chuck, who provide outstanding teaching, leadership and encouragement to the team (and GM) year round!
Thanks to the BORP All Stars for their enthusiasm for basketball and supporting an environment of respect and appreciation for each other and the sport that permeates every game and practice!
Thanks to Trooper and the Jr. Road Warriors (All Stars teammates of the future), 2017 West Coast Conference Champions, for the most exciting game of the tournament! Good luck at Nationals!
All Stars Scoring
Munya 50
Pab 44
Sam C 42
Sam M 18
Rem 16
Paul 14
Lamile 11
Tom 4
Chuck 4
Roll Hard!