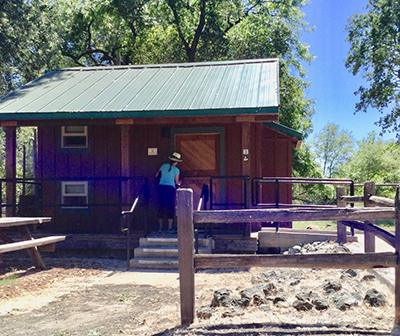 For those that enjoy camping in Northern California but no longer want to or can't sleep on the ground, there's good news. Rustic cabins are popping up at State and local parks. The newer cabins being installed are fairly similar in design and amenities so you mostly know what to expect from site to site. The unfurnished cabins typically sleep 4-6 in platform beds (some bunk beds), and you must bring your own bedding and in some instances mattress pads. There's no kitchen or cooking inside the cabin, but outside you'll find a barbecue, fire pit, and picnic table. Many are equipped with electricity, heaters, and lights, and some even have cooling fans. Rates range from $60-$100. Disabled discount passes generally don't apply.
Here is just a sampling
North Coast: Patrick's Point State Park, Jedediah Smith Redwoods State Park, Prairie Creek Redwoods State Park.
Clear Lake: Clear Lake State Park
Shasta: MacArthur Burney Falls State Park
Bay Area: Samual P. Taylor State Park and Spring Lake Regional Park in Santa Rosa. One is  coming this fall at Del Valle Regional Park in Livermore.