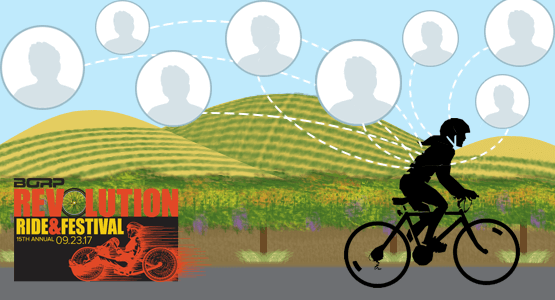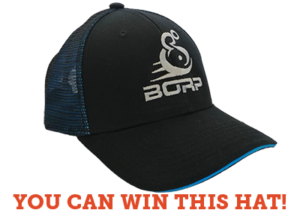 We've been happily giving away these nifty BORP hats every Tuesday to the Revolution rider who raises the most money that week, but recently something unexpected happened.
Annie Kaferle registered for the Revolution on Monday afternoon. And by the time we were calculating the winner of the week's hat giveaway, she was squarely in the lead. When the contest officially ended at noon on Tuesday, Annie had raised over $700. In less than 24 hours.
Here's Annie's secret to raising over $700 in under 24 hours
"I sent an e-mail to my friends and family with the link in it – riffing on what BORP provided with a little personal blurb about why I chose to support BORP and then I also posted a similar link on Facebook for people to donate directly. I have to say, I think the more you facilitate donating (i.e. adding a hyperlink) the easier it is for people to donate – and quickly! I'm pretty lucky to have such generous friends and family that are willing to donate to a cause that I am interested in!"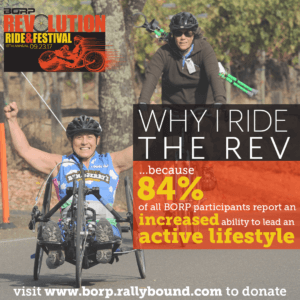 Give it a try. (You, too, could win a hat and help support BORP at the same time!)
If you haven't registered for the 15th Annual BORP Revolution Ride & Festival yet or haven't started fundraising, don't worry. There's still time to meet and exceed the $400 minimum fundraising requirement.
Try personalizing the templates we provide, like Annie did, with your own reasons for supporting BORP and sending it to your friends, family, and coworkers. Be sure to include the link to your personal or team page.
You can also post something similar, including the link to your fundraising page and your reasons for getting involved with BORP and riding in the Revolution, to your Facebook page.
Give it a try! You may be surprised by how much your friends and family want to support you and care about the causes that you're committed to! Plus, we're giving a BORP hat to this week's top TWO fundraisers, and you could win! (All donations made between Tuesday, August 22 and Tuesday, August 29 at noon will count toward the contest. Winners will be notified on Tuesday, August 29.)
More Fundraising Resources:
SaveSave