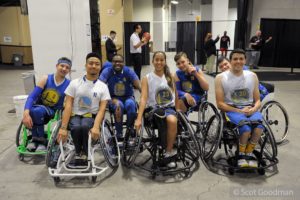 The BORP kids have had a great couple of months as they have prepared for the beginning of the season. The kids were able to play a pre-game scrimmage at the Warriors game on Nov. 24, just before the Warriors took on the Chicago Bulls at Oracle Arena. After a few nervous minutes on the court, Ben Thornton took over and ran the court like a pro. Cutting through the defense he was able to score at will. Ella Rodriguez settled down to start hitting her outside shot and kept the scrimmage exciting.
Thanks to everyone that supported the event by purchasing tickets to the game.
The Varsity team went on to open their season at the Western Regional Tournament in Phoenix, AZ. The team is in a rebuilding year, having lost several of their starters from last year, and are in a position where all the kids are having to understand new roles within the team. The kids had a rough tournament, going 0-5 on the weekend, but were able to get better each game and really start working with each other much better. Only five players made the trip, which meant that there were no substitutions or breaks for the kids.  As much as it is never fun to lose, the team was amazing at how they continued to work their butts off through the weekend. They played until they dropped and at the end of the day they pretty much passed out on the bus.
It was a great trip, even with the losing record, and the team is already working hard to prepare for the next tournaments in January.