Elaine Beale recently joined the BORP staff in the newly created position of Development Director. We spent a little time talking to Elaine and getting to know more about her.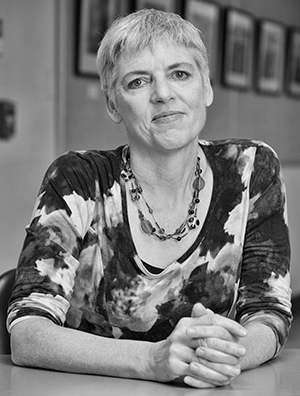 BORP: Tell us a little bit about yourself
Elaine: I grew up in Northern England and attended the University of London before moving to the Bay Area in 1989—just in time to experience the Loma Prieta Earthquake! I've now lived in Oakland for almost 30 years and consider it my hometown.
BORP: How did you first learn about BORP?
Elaine: When I was working as the Development Director at the National Housing Law Project, one of my co-workers had a son with cerebral palsy who participated in BORP programs. He would come by the office fairly regularly and often talked about how much he loved BORP. He helped raise funds for BORP activities and I donated several times. Years later, my partner also became a BORP donor when one of her co-workers started participating in BORP programs.
BORP: What are your hobbies?
Elaine: I love to write and to read. I also enjoy being outdoors—bicycling, hiking, and gardening are some of my favorite activities. I'm a keen photographer and I like to cook. I like to travel, and in the last four years I have been lucky enough to travel to New Zealand, Vietnam, Spain, Panama and Costa Rica, as well as back to the UK to visit family and friends. Right now, I'm trying to figure out where I want to go next!
BORP: What are you passionate about?
Elaine: For the last 10 years, I've taught creative writing at The Writing Salon in Berkeley. Because I love writing myself, it's inspiring to support others who want to grow as writers and build their writing skills. While I can sometimes feel overwhelmed with all the negative happenings in the world, I really believe that when people engage in art and find their creative voice, it contributes to positive change.
BORP: What are you most excited about in your new position as BORP's Development Director?
Elaine: BORP has such a strong and positive reputation in the community, and has a wonderful impact on so many people's lives. I'm really excited to help the organization tell its story, reach more supporters, and raise the funds that will help sustain BORP and allow it to grow.
BORP: What's a secret talent that no one knows about?
Elaine: Hmmm, I can be pretty handy around the house—I've laid floors, glazed windows, installed insulation and drywall, and put in plumbing, among other things. But I'd rather keep that a secret if you don't mind, since I really don't enjoy doing it.