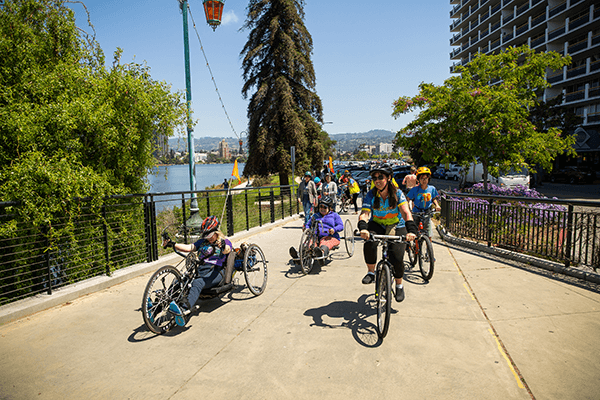 On Saturday, May 11, BORP was thrilled to participate in a ceremony at Lake Merritt in Oakland launching our new six-month Adaptive Bike Share pilot program. This program will provide people with disabilities the use of handcycles, recumbent foot trikes, and a side-by-side tandem on Wednesdays and Saturdays at a site next to the Lake. A collaboration with Lyft's GoBike, the program is the result of determined lobbying by the Oakland Mayor's Commission for Persons with Disability. It is entirely funded by Lyft and will be free of charge for people with disabilities during the pilot.

Two BORP staff will be on hand to assist in fitting and training of new riders. The goal of the pilot is to learn more about how people with disabilities in Oakland can and want to access the Shared Bike systems that are spreading around the world.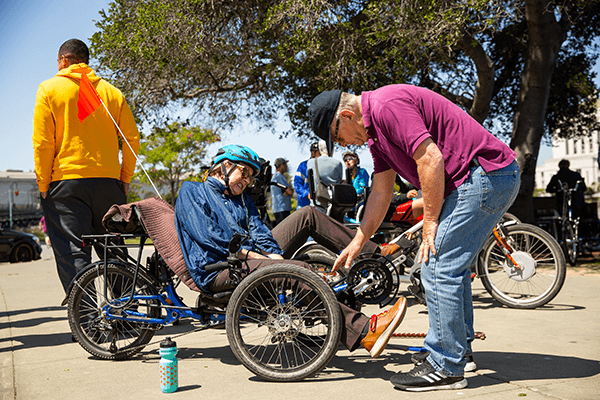 "We're thrilled to work with BORP to open up new possibilities for people with disabilities who want to access bikes in Oakland," said Caroline Samponaro, Head of Bike, Pedestrian and Scooter Policy at Lyft.

Says Greg Milano, BORP's Adaptive Cycling Manager, "The first step to bike share programs becoming fully inclusive is to increase awareness about the equipment and options that make cycling possible for people with disabilities. Once people see what's possible and get a chance to try them out, they'll be able to take equal advantage of the bike lanes and trails we've all invested in over the last decade."
Although the pilot is not the exact same model as Bike Share's self-service 24/7 stations, the goal is to educate the community about the possibility of cycling for people with disabilities—and to get everyone riding, of course!

The current location of the new adaptive bike share program:
1335 Lakeshore Ave, Oakland, CA
Hours:  Wednesday 11 – 5, Saturday 10 – 4