By BORP Youth Team Coach, Trooper Johnson
About nine years ago, the BORP youth team was at the Oakland Ice Center, getting ready for Sled Hockey, when a little kid skated in on a skateboard. He was a small kid, followed by his father, a brightly dressed man wearing a headwrap and a worried smile on his face. He asked about sled hockey and if we could let his son try it. His son was Garnett Silver-Hall. And this meeting was the start of something big.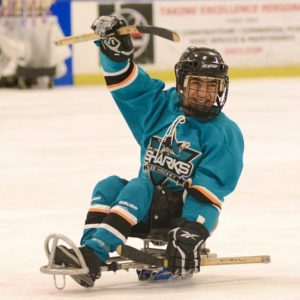 Garnett has arthrogryposis, and his condition doesn't allow him to bend his elbows. He had mastered the skill of propelling himself on the skateboard, but I wasn't sure how that was going to work in a sled. But the more I watched him, I realized that the motion he used to skate was very similar to what he would need to do in a sled. We got him some gear, adjusted a sled, and threw him on the ice. All bundled up and he could barely move. But we soon discovered he had a natural ability on the ice.
Garnett flowed through turns, and with his modified choppy strokes, he started picking up speed. Above all, he was fearless. He wasn't afraid to hit anything on the ice, and started developing a terrific shot. The program was still in its early stages, and some days there would only be a few kids on the ice. But Garnett was always there, pushing himself to get better. As the team grew, he continued to develop his talents, and was invited to the USA Hockey Development Camp, where he was able to learn from and compete against members of the USA National Team.
While Garnett was playing sled hockey, we kept inviting him out to the basketball court, but he would never accept. Finally, he tried it out. Because of his disability, pushing a chair did not come naturally. It took time, but he slowly started to get more speed, and was able to control the chair with the ball.
Over time, he became much more fluid and incredibly fast. And he showed that same fearless nature he'd had on the ice. He challenged himself in every way possible, and fell more times than any kid I've ever seen, but he always got right back up. And there was something special about him that the other kids were drawn to—they all lit up when he got into the gym.
Garnett graduated high school during 2020, and was accepted into the University of Arizona—which is where he is now. He's currently playing wheelchair basketball for the Wildcats. Garnett certainly deserves BORP's Jennifer Howitt Award for his athletic ability, but he's also been a friend and mentor to his teammates and someone who's contributed to his community in so many ways. Among other things, he worked with the CCS unit in Santa Rosa to put on an adapted skating clinic, and worked with one of his teammates (Ben Thornton) to teach a basketball clinic in Santa Rosa. He always wanted to present opportunities to get other kids engaged in sports. We're thrilled that he's continued to stay engaged with the kids on BORP's Jr. Road Warriors team. He will always be considered part of the sled hockey and basketball teams. And we're delighted that he's being honored during BORP's 45th Anniversary Event. We hope you'll join us on Wednesday June 9th to celebrate Garnett and BORP.