Want to dance to great music and have a great time?  Join BORP Fitness Studio for our new ASL Zumba class. Beginning March 1st, BORP will offer this class every week!  We are excited to have Bobbe Skiles, Zumba teacher and ASL Interpreter join us to bring this great class.  See you there!
Zumba® is a Latin based dance fitness class.  Dancing to a variety of rhythms will get the body moving in a fun, energetic way.  A Zumba® class is more like a party than exercise! Bring water and a towel and prepare to sweat!  You don't have to be a dancer to join the fun.  You just have to want to get into an exercise program and start feeling great!  Smiles are required!  Bring your energy and prepare to party!
ASL Zumba – Saturdays 10:30AM-11:30AM.  Your first class is free! $11.00 to drop in thereafter, $8.00 for seniors. Please contact India Harville via email at india@borp.org for scholarship information.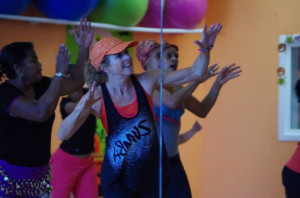 BORP Fitness Studio – 3075 Adeline Street Berkeley, CA 94703. Right at Ashby Bart.