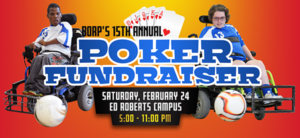 Whether you're an avid poker player or a novice at best, anyone has a chance to make the final table at the BORP Poker Fundraiser, and this year was no exception. There was a first-time attendee, a regular, and a power soccer player and assistant coach at the table. But the person who won the tournament was Katherine Russell, who arrived at the tournament late because of a delayed flight, coming directly from the airport to the fundraiser. That's how much she loves BORP!
The fundraiser had one of its best turnouts, with over sixty people participating. And while many were first-time players, one of the best things about the event is that people tend to come back year after year, making it feel like a fun game with family and friends, versus a cutthroat battle of competitors.
The tournament started out cautiously as everyone settled in, but by the third round, the "all in's" were coming from every table and the first player was knocked out. Luckily this year we had instituted the ability for people to "buy back in" to the tournament by making another donation and almost everyone took advantage of this option which kept almost everyone playing in the tournament for the first two hours. From there people started dropping like flies. One could hear the cheers of joy and moans of despair as the last card in the hand was revealed to help someone win and derail someone's hopes.
The final table had Adam, a power soccer player from Sacramento, against Katherine who helped to produce a documentary about power soccer. Adam was the chip leader by 4 to 1 at the start but Katherine clawed her way back, battling it out. Patience, savvy betting, and a few lucky cards put her over the top in victory. A spectator commented, "This kind of action should be televised!"
Thanks to everyone for supporting BORP power soccer and another successful poker fundraiser! With your contributions, we were able to meet our fundraising goal, raising more than $10,000! Mark your calendars for next year's event February 23, 2019, to see your old poker buddies and make some new friends, too.
Big thanks to Bob Dubow for helping get the tournament started off with a poker tutorial that helped new and rusty poker players feel confident and comfortable participating. He did such a good job teaching people how to play one of the students knocked him out of the tournament! The tutorial drew a crowd and actually got people in the spirit to shuffle up and deal.
I'd also like to thank  Jonathan Newman for setting up and making the venue look good, Betsy Dorsett and Daniel McDonnell for making sure everybody got registered, Danielle and Tiffany for quenching everyone's thirst, and Sarah Dawn for providing the amazing food and treats.
This year more great support was also provided by Delta Gamma sorority throughout the night. They helped the entire event from set up to clean up and we couldn't do it without them!
Go BORP!